How to Dress Professionally in Warm Weather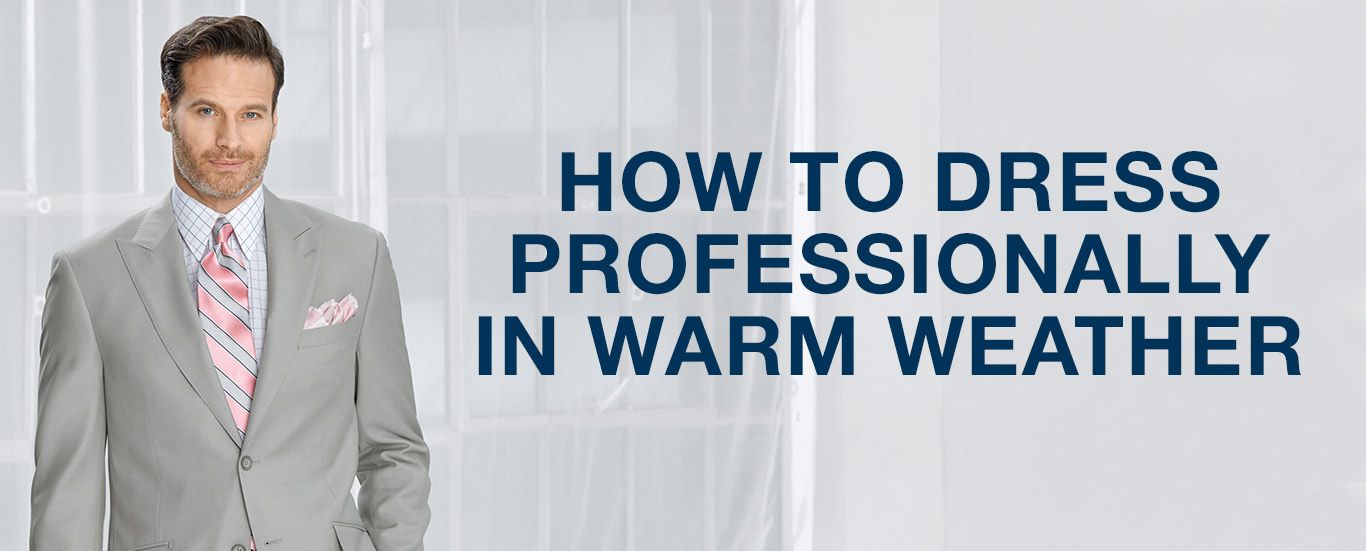 In warmer months it is impossible to avoid heat and the sweat that comes with it. This can get even more complex when you must look professional at the office. It can be a struggle to not feel suffocated in layers with a tie, but that is no excuse to go to work in a casual t-shirt and shorts. Fabrics and styling tricks can help you get through business trips to India, Australia or Texas, going to a huge wedding, and even the daily grind at an under air-conditioned office.
Functional Fabrics
When the mercury begins to climb certain materials will feel best against your skin, and even may perform better in heat. Let's face it, looks are important! For hot weather comfort, 3 main factors should be considered when purchasing items.
The Weight of the Fabric
Breathability of the Fabric
The Fabrics Weave
Fabric Weight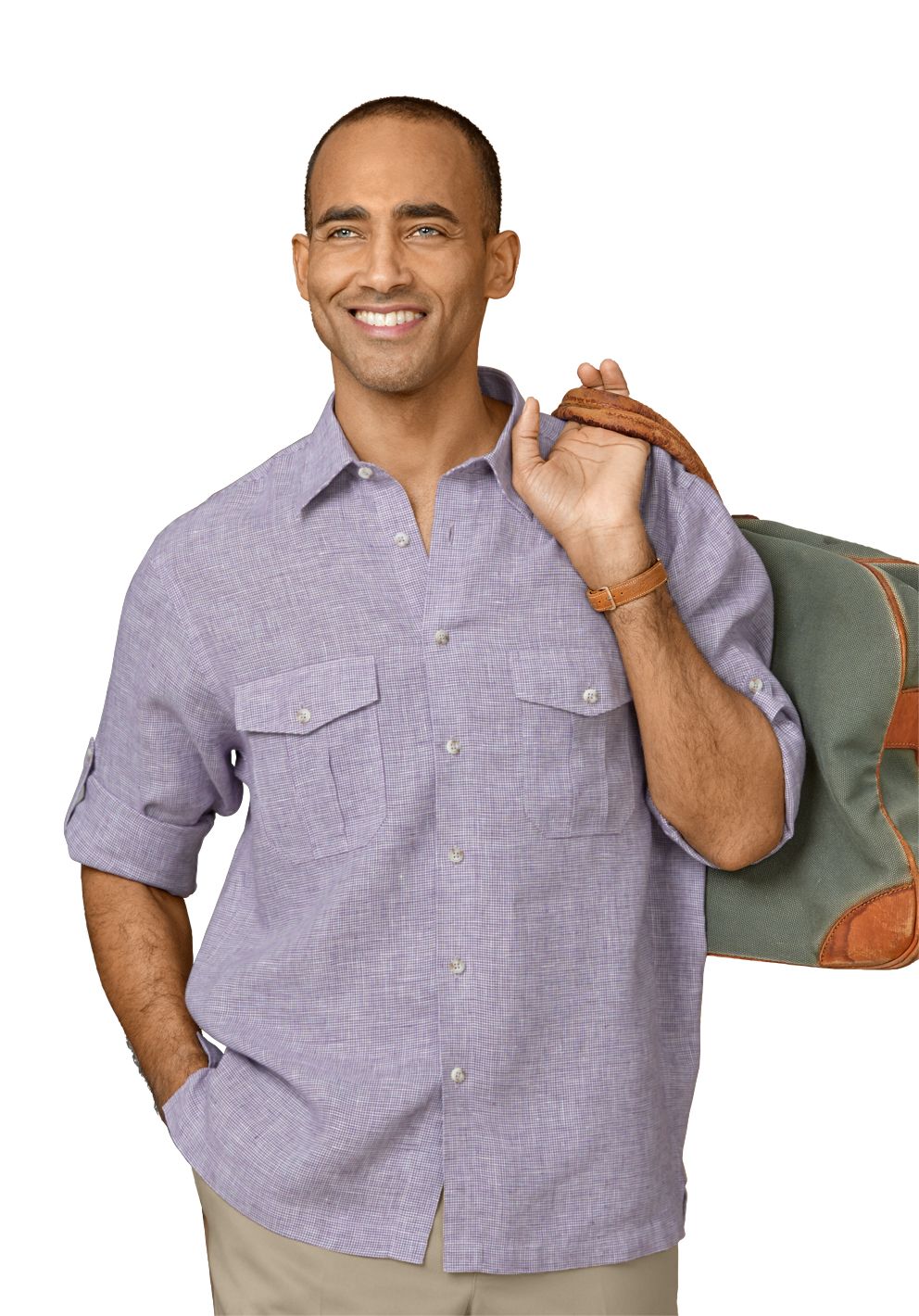 Think cool = Light, Natural Fabrics.
Cotton and Linen are a must in hot weather. Both are moisture-absorbing and breathable. Paul Fredrick incorporates a large line of items made up of these natural fabrics in their 2018 Summer Collection. You may think that linen is not as soft as cotton or you may feel the wrinkles aren't worth battle. This is Old School thought! Many of our pieces are blended with cotton to give a soft feel right out of the bag, although linen will soften up naturally the more times you wash it.
Still hesitant about wrinkles and looking professional? Look for clothing that incorporates the newest performance features like 'Enhanced Wrinkle Recovery', which maintains linen's naturally relaxed look throughout the day in neat wrinkle-less style.
Take your look to the next level with high tech performance clothes. They're tailor-made to perform under extreme situations, like work presentations or dancing at weddings. Never let wrinkles make you late to work as this shirt is made to not wrinkle, in fact as you sweat the moisture will activate the treatment in the fabric to keep it from wrinkling in the first place.
Being outdoors and traveling is not just for vacations. Even in the hottest months of summer we still must maintain our composure while conducting a meeting, attending work lunches or just working in a stuffy office.
A new generation of luxury exclusively from Paul Fredrick is the perfect answer for anything those hot & humid days throw at you.
Styling
There is a vast array of styles between looking like you want to be the boss and going to the beach with your buddies.
Remember Fridays maybe casual but it is business first. Shorts and t-shirt are not work appropriate. Plus, the more skin exposed to direct sunlight which will make you hotter in the worst sense. No one wants to get up from a leather office chair and make a sound from unsticking. Think casual, cool, and a bit suave on Fridays. An alternative outfit could be a pair of comfortable Chino's and a Pima cotton sweater layered with a silk camp shirt and loafers.
When it comes to the rest of your work week. Tropical wool suits in dark navy, tan, brown work well for board meetings or can be worn for a more relaxed yet professional look. Seersucker is considered the essential summer suit, especially for weddings. The linen suit can read casual, but it is perfect for travel to warm climates. Suits can be playful yet professional in bright colors, subtle patterns, and pastels that give a nod to the spirit of the season. But a head to toe silk suit in a bold color is just dated and will leave you looking like Don Johnson from the original Miami Vice. Patterns can be bold and eye-catching, but first, consider how your whole ensemble looks together. A mismatched shirt and tie is never ideal, no matter the setting.
Simple Summer Style Tips
These are some quick summer styling tips to help you beat the heat.
Ties for summer are best in blended silk and linen so they feel less heavy to both the viewer and the wearer. Bow ties can make you feel more closed in and cannot easily be loosed so stick with a straight tie on very hot days.
Plan to roll up your sleeve and get down to work? While a cufflink is always fashionable, stiff French cuffs tend to be difficult to roll. Stick with button cuff shirts or a light silk camp shirt instead.
Socks are a fun way to add personality to your look and can help you stay cooler in a stuffy office.
Go sockless in loafers for a hip European look.
Try a vest instead of a jacket for a fashionable outfit that keeps you professional and cool. To avoid unsightly sweat stains when you raise your arms pair your vest with our moisture wicking and stain resistant performance dress shirts.
Hats are perfect for going to and from the office, at outdoor weddings, and for warm weather travel. Of course, these are never indoor appropriate, especially in meetings. But a straw fedora with a stingy brim is a stylish way to protect yourself from the sun.
Never neglected your tailor! Loose fitting attire makes you feel sloppy unprofessional and less put together. Conversely, if your clothes are too tight you will feel extra warm. You're more likely to feel uncomfortable and not ready for the business day when your clothes don't fit you properly. Make sure you get your clothes properly tailored.
With all these insights fresh in your mind it is the perfect time to shop for your warm weather look for the office. You can get started right now at Paul Fredrick.