GLOSSARY OF TERMS USED ON PAULFREDRICK.COM
Not sure what something means? Click the letter that corresponds to your query:
(The higher the number, the finer the threads; the finer the threads, the silkier the fabric)
100's Two-Ply Broadcloth (fine) A premium shirting fabric made with two-ply threads (two individual threads are twisted together) which make it durable, soft, and lustrous.
140's Broadcloth (very fine) A very luxurious yarn, the higher thread count and resulting closeness of weave gives it a superior hand and remarkable luster.
200's Two-Ply Broadcloth (extremely fine) Woven from some of the finest cottons in the world, our 200's Two-Ply Cotton offers an extremely silky touch and incredibly fine patterns.
1/4" Top Stitch A more traditional tailoring feature, stitching on the collar and cuff is 1/4" from the edge versus edge-stitching which is flush with the edge.
5-Pocket Modeling most commonly associated with denim jeans, five-pockets style puts a more casual spin on your trouser with 2 front pockets, a front coin pocket and patch rear pockets.
7 fold The ultimate in neckwear craft. Silk fabric is folded seven times for a more robust tie. The thickness and absence of lining makes for a well balanced tie that drapes and knots perfectly.
Argyle
An intarsia knit characterized by colored diamond shapes. Argyle designs are common in sweaters and socks.
Bamboo
A natural, renewable resource that is, much like cotton, machine washable, strong and hypoallergenic, making it the perfect fabric for extra sensitive skin. Bamboo fabric is luxuriously soft, similar to the softness and look of silk. It is extremely breathable and comfortable against skin.  Bamboo absorbs and wicks moisture away from the skin, keeping you cooler and drier than synthetics or cotton. The natural antifungal agent "bamboo kun" deters bacteria and pests from the bamboo, making the use of pesticides or herbicides unnecessary.
Band Collar
A collar that stands up straight and encircles the neck, without any turndown collar points. Paul Fredrick banded collars have a 1-1/4" stand.
Basketweave
A variation of a plain weave in which two or more warp (horizontal) yarns and one or more weft (vertical) yarns are interlaced as one. These yarns are placed into the woven construction flat and continue to run parallel to one another throughout. Resembles a miniature braided basket.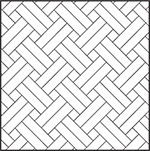 Bengal Stripe
A wider color stripe that alternates with a narrower white stripe.
Besom Pocket
A set-in pocket cut into the garment with access through a welted slit-type opening. Found on shirts and trousers.
Bias
The bias direction of the fabric is diagonally across the grain. While a true bias is cut at a 45 degree angle to the fabric's warp (horizontal) and weft (vertical) threads, a bias cut is any direction in the fabric which does not exactly flow in the direction of the length or width of a fabric. A bias cut also provides for greater stretch, or give in the fabric.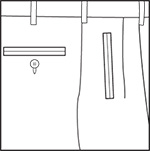 Biotech
A natural process finishes the pure wool fabric without chemical components. Environmentally-friendly, high-performance. Found in the Paul Fredrick Luxury Italian Blazer, making for a remarkably soft and durable garment.
Bird's Eye
A weave that is comprised of small repetitive diamond shapes resembling a bird's eye. Usually found on blazers, trousers and socks. This classic fabric also lends subtle texture to fine dress shirts and suitings.
Blazer
A type of jacket. Although it resembles a suit jacket it is a more casual coat, often with metal buttons.
Boxer Shorts
A man'sundergarment often made in cotton or silk, based on the garment worn in the sport of boxing.
Brass
A metal alloy of copper and zinc.
Broadcloth
A dense, tightly woven fabric. It is lustrous and soft with a good texture and a smooth finish. Broadcloth tends to wear very well and is machine washable.
Business Casual Collection
A Paul Fredrick Collection. Easy, refined garments that are traditionally considered more appropriate in a casual business setting.
Buttondown Collar
A collar that is secured to the shirt by small buttons on both points for both a stylish and practical look. The buttondown collar was introduced in England during the 1800s to help polo players keep their collars in place while playing. The buttondown collar is hence considered a more sporty look. Click here for a visual comparison of our Dress Shirt collars.
Cable Knit
A knitting pattern in which cables appear to twist around one another.
Calfskin
A smooth-surfaced, fine-grained, durable leather from the hide of a calf. It does not scuff easily, stretches only moderately, and cleans well.
Camelhair
A soft and luxurious fabric made with hair sheared from a Bactrian camel. Camelhair is most often used in the construction of suits and jackets. Similar to wool, it provides excellent warmth, but is lighter in weight.
Camp Shirt
A button-front shirt with a collar and no neckband. The shirt produces a casual look with its straight hem, boxy cut, and vented sides for wear in or out.
Cap
A form of headwear. The crown of a cap fits closer than that of a hat, and they do not have a brim, although a visor is usually present. Caps are typically designed for warmth and, when including a visor, blocking the sun from the eyes.
Cap Toe
A separate piece of material covering the toe section of a shoe for reinforcement and/or decoration; usually used on oxford-style shoes.<
Car Coat
A 3/4 length coat that is historically known as comfortable option for driving since the 1950s.
Cardigan
A collarless sweater that buttons or zips down the front. Originally used as an extra layer for warmth under military uniforms. A classic piece for any wardrobe.
Cashmere
An extremely soft and lightweight luxury fiber combed from the undercoat of the long-haired Kashmir goat. Cashmere has a soft and silky finish and is most commonly woven or knit to produce sweaters, suits, coats, and other winter accessories.
Chalk Stripe
Evenly spaced, soft, thin white or light stripes woven into dark fabric. A classic yet elegant look.
Chevron
A pattern characterized by inverted V's. In the 1820s Chevron patterns characterized Art Nouveau design.
Chino
A type of cotton twill that can be finished with a smooth or mercerized brushed surface. Originially used as summer uniforms for the U.S. Army because their durability. Washes and wears extremely well.
Club Collar
Part of Eton College's dress code in the 1800's, the rounded edges of the collar look best on thin faces. The softness of the points softening sharp vertical lines.
Collar
Click here for a visual comparison of our Dress Shirt collars.
Collar Bar
A pin or a clip that secures the two ends of a dress shirt collar together and lies underneath the knot of a necktie.
Collar Stay
A small tab that is inserted inside of the collar, running down to the collar points. Allows for an overall better shape, fit and roll of a collar.
Comfort Waistband
A waistband characterized by an elastic quality that offers more give and comfort.
Continuous Collar/Cuff
A fashionable shirt style in which the fabric for the collar and cuff is cut on the cross (vertical) allowing for the shirt pattern to flow in a continuous direction from the body to collar and cuff.
Contrasting Collar
A shirt collar that is a different color or pattern than the rest of the shirt.
Corduroy
A fabric composed of twisted fibers that lie in distinctive vertical or horizontal rows. Each row, known as a wale, can vary in width. Corduroy wears well, has a soft luster, and is typically used for pants, sportcoats, and shirts.
Cotton
Gathered from the seed pods of the cotton plant, the fiber is most often spun into yarn or thread and used to make a soft, breathable textile. The most widely used natural-fiber cloth in clothing today, cotton fibers have a high degree of strength, durability, and absorbency. There are several grades of cotton; Egyptian cotton is considered to be the finest, with Sea Island as its domestic counterpart. Although less expensive, Pima cotton is also of high quality due to its extra-long staple fibers.
Covered Placket
A button or zipper closure that is hidden under a fold of cloth. Also called a "Fly Front." See also Placket
Crystal
A clear, colorless glass of superior quality.
Cuff
Paul Fredrick Dress Shirts have 5 different types of cuff or sleeve combinations:

Single Button Cuff

Double Button Cuff

Mitered Cuff

French Cuff

Short Sleeves
Cummerbund
A broad waistband worn with a tuxedo The pleats, always facing up, were originally used to hold theater tickets.
Cutaway Collar
A collar whose points are pulled back to the side to allow full view of the necktie knot. This is ideal for wide and prominent neckwear that requires an unimpeded presentation.
Dash Stripes
A pattern of stripes in varying widths of two or more colors.
Deco
A style of design marked by geometrics motifs, bold colors, sharply defined outlines, curvilinear and stylized forms.
Dobby
Refers to the dobby attachment on a weaving machine, or fabric constructed with this attachemnt. Fabric made up of a decorative weave, usually characterized by small geometric or dot designs. Dobby fabrics are perfect for dress shirts as they are generally fine and flat.
Donegal
Dating back to the 1800s, a knit or tweed with coarse, nubby multicolored yarns that are combined with single-colored yarns to produce a mottled effect.
Double Breasted
Refers to a sportscoat, jacket, or similar garment having a wide overlapping of the front flaps and two parallel columns of buttons. A functional inner-button, called the jigger, usually is added to fasten the over-lapped layers together, from the inside. In most double-breasted coats, one column of buttons is decorative, the other functional. Popular double-breasted stylings are 6-on-2 in which there are six buttons, four decorative and two functional and 6-on-1 in which only one of the six buttons is functional.
Double-Faced Fabric
Having a finished face on both sides so that either may be used as the outer, or right side. This makes for a polished look. On causal shirts, double-faced fabric allows for a clean appearance when rolling up sleeves or leaving the shirt unbuttoned layered over one of our comfortable tees.
Double Press Turnback Placket
The fabric on the left front panel is folded over to create the placket allowing stability and durability without the use of interlining. Also called "French Fly Front". See also Placket
Double Reverse Pleats
Trousers with pleats open to the pockets. The first pleat is a 1" depth and second pleat is a ½" depth.
D-Ring
An adjustable ring on waistband allowing for a better fit without the need for a belt.
Driving Moccasin
This shoe is characterized by a rubber outsole that extends over the heel, usually in the form of rubber nubs, thereby allowing the wearer to easily rest on a surface, such as while driving (hence the name), without ruining or scuffing the leather on the heel of the shoe.
Edge Topstitch
There are two types of stitching for collars: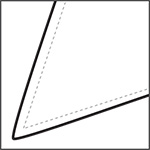 Edge Topstitch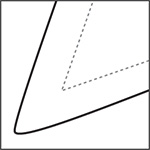 1/4" Topstitch.
Egyptian Cotton
Egyptian Cotton - Egyptian cotton is grown in the most ideal growing conditions for a high grade, long staple cotton. These extra-long fibers provide a visibly silkier look and feel while being stronger, lightweight and more breathable than regular cotton. An added benefit is that Egyptian has less pilling than regular cotton after washing and therefore will look and feel better longer.
Elastane
Elastane is a synthetic fiber known for its exceptional elasticity. It is stronger and more durable than natural rubber.
Embedded Collar Stay
In addition to the removable collar stay, this is an added small piece of collar stay that is sewn into the point seam of the collar to give more stability to the collar point. This added piece will prevent the collar points from curling under after several washings. The embedded collar stay is used in the following collars with quarter inch topstitch: Traditional Straight Collar, Windsor Spread Collar, Park Avenue Spread Collar and Double Button Band Spread Collar.
Embossed
Raised or relief patterns on the surface of the fabrics produced by using pressure in conjunction with engraved rollers and heat applications.
Enamel
Protective and decorative. An opaque, glass-like composite fused to metal, glass or pottery. Used on select Paul Fredrick cufflinks.
End-on-End
A shirting fabric where a colored yarn is woven in one direction and white yarn is woven in the other to produce a textured effect.
English Tab Collar
The tab collar holds the tie perfectly in place using a snap or button that brings the collar points closer together, creating an always neat appearance. Click here for a visual comparison of Dress Shirt collars.
Epaulet (Epaulette)
French for "little shoulder", epaulettes are bands of fabric, often attached with a button, that adorn the shoulders of a jacket or coat. They were originally used as insignia or rank by the military and other organizations.
Essentials Collection
A Paul Fredrick Collection. A collection of business wardrobe classics every well-dressed man should have in his closet.
European Straight Collar
An edge stitched straight collar for a slightly more modern look. Click here for a visual comparison of Dress Shirt collars.
Extra Slim Fit
Extra slim Fit compared to slim Fit tapers 3" more narrow in the chest to 2" more narrow at the waist to accommodate an even slimmer build. There are 2 back darts to help shape the slimmer fit. Length is also 4" shorter than slim Fit. No Pocket.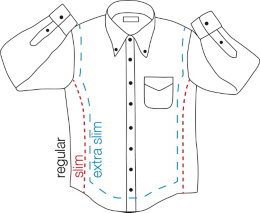 Eyelet Collar
Reminiscent of the Gatsby years, the eyelet collar allows for the use of a collar pin to hold the points in place.
Fabric Care
Click here for detailed fabric care instructions.
Fedora
Classic hat style traditionally made of soft felt, however straw and twill fabrics can also be used. The hat is creased lengthwise down the crown and pinched in the front on both sides. For added interest some fedoras include small feathers which are inserted in the band around the crown.
Fiber
The basic element from which yarns are made.
Field Jacket
Of military origin, the Paul Fredrick field jacket is characterized by large lower bellowed pockets and two breast pockets.
Flannel
A soft woven fabric. Usually a twill weave that is slightly napped, or brushed on both sides or additional warmth and comfort.
Flat Front
Trousers without pleats. A sleek, clean look.
French Fly
Paul Fredrick uses a one-piece fly used in dress pants. The French fly helps to ensure that the pant front lies flat for a neater, cleaner appearance.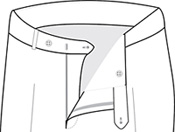 Fully Fashioned
A fully fashioned knit is an indication of a better quality. Compared to a cut-and-sewn knit where the separate pieces are sewn together, fully fashioned is a method of knitting a garment in which the complete unit is shaped and knit on the machine as it is formed. A fully fashioned knit is characterized by fashion marks around the armhole (shoulder) and neckline. The portions of a garment are shaped by increasing or decreasing the number of loops in the width of the fabric, such a narrowing and widening produces the shape of the garment. This results in an overall better fit.
Gabardine
A tightly woven combed yarn characterized by vertical twill lines created by using more threads in the warp (horizontal) than weft (vertical.)
Gauge
A unit of measure abbreviated as GG. Expressed by the number of needles of a knitting machine in a 1"-1.5" area in the production of a knit garment or fabric. As a general rule, the higher the gauge, the finer the fabric, whereas the lower the gauge, the bulkier the knit. Commonly used gauges range from 9GG-16GG.
Gingham
A plain woven fabric typically of a checked pattern in white and another color. Usually made of cotton, gingham is associated with check, plaid or stripe patterns.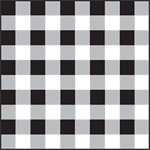 Glen Plaid
A fabric featuring a design of small and large woven checks.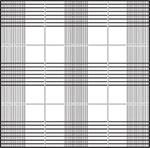 Gold Plated
A thin coating of gold over an alloy metal.
Gorge
The seam where the collar and lapel meet on a men's jacket, forming the notch; determines the length and roll of the lapel.
Grosgrain
A closely woven silk or rayon fabric with narrow horizontal rounded ribs.
Guabello®
Distinguished Italian Mill. The finest materials, refined finishing techniques, Lanificio Gaubello's® over 150 years of experience give their fabric a unique and exceptional quality. Singular comfort. Remarkable softness. Quite possibly the finest wool in the world.
Gauge
A unit of measure abbreviated as GG. Expressed by the number of needles of a knitting machine in a 1"-1. 1/2" area in the production of a knit garment or fabric. As a general rule, the higher the gauge, the finer the fabric, whereas the lower the gauge, the bulkier the knit. Commonly used gauges range from 9GG-16GG.
Half Canvas Construction
The inner canvas layer of the suit that gives it shape, structure, and strength. While you can't see it, this all important part not only shapes the suit from the start, but also has a memory for your shape, giving you a better fit. This feature really does separate one suit from another.
Half-Lining
A half lined jacket is lined on the top half and sleeve, but the bottom half is not lined and the seams are taped for a clean finish. Half lined is usually done on jackets with lightweight fabric, so the lining doesn't add weight to the jacket.
Half-Rimmed
Eyeglasses rimmed only on the top or only on the bottom of the lens.
Hand
The hand describes the overall qualities of a fabric. Such qualities as softness, silkiness, etc are revealed through the sense of touch.
Handcrafted
A work produced by hand labor. A selection of our cufflinks are skillfully handcrafted in a small mill in Florence, Italy. The mill is home to some of the most creative designers and skilled cufflink craftsman who take tremendous pride in creating the best quality cufflinks in Italy. Each Swarovski stone is carefully hand placed while the enameling, also done by hand, is placed with absolute precision. From creating the first mold of solid brass to the beautifully polished finish, these Italian individually handcrafted elegant cufflinks are perfect for the guy looking for true quality at an affordable price. All of our shoes come directly from small mills in Italy, where skilled craftsmen oversee the construction of our shoes in every step of the finishing process through the final polish. We work with these mills to design the most exquisite and unique shoes possible, offering our customer nothing but the best quality and value.
Handmade
Made by hand or hand process. Seven fold ties set themselves apart from a standard tie with their superior construction. Roughly a square yard of silk (usually two or more pieces sewn together) is folded to create seven sections of silk between the folds. The weight and body of this tie are derived from the layering of silk and typically requires an hour or more to construct. Every section is hand stitched with exquisite detail and constructed entirely out of the same silk fabric front to back. Seven fold ties are untipped or unlined, as they are made completely out of luxurious silk. These handmade ties were once a traditional craft that is now nearly all but forgotten in an effort for most tie makers to cut costs. All of our other handmade ties are cut by hand from generous amounts of silk. The generous pieces of silk allow all three parts of the tie to be cut "fully on the bias" (or diagonal) and also ensures that there is sufficient silk to create a deep fold at the back of the tie, which gives the tie a more luxurious feel. After cutting the three silk tie parts, the blade, neck and tail are joined together and tipping is then sewn into the blade and the tail of the tie. The Paul Fredrick label is then hand-stitched on the back as the finishing touch.
Heather Yarns
A yarn consisting of differently colored fibers that are blended together to give a soft, muted look. Heathered yarns got their name because of the purple color they portrayed when used in early tweeds which resembled heather-covered moors.
Herringbone
A variation on a twill weave fabric, in which the twill is reversed, or broken at regular intervals, producing a distinctive V pattern resembling the skeleton of a herring fish.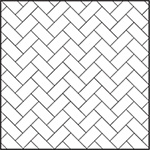 Hidden Buttondown Collar
Similar in appearance to the straight collar, buttons hidden underneath the points hold the collar in place.
High Twist
Fabric with the sense of cool touch and superb surface by using high twist yarn; good drape, excellent elasticity. Unparalleled drape and wrinkle resistance.
Houndstooth
A fabric with distinctive broken checks that resembles the jagged back teeth of a hound. This staple pattern, once popular with hunting clothing, is often found in shirts, sportcoats, suits and trousers.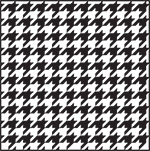 Imperial 100's cotton broadcloth
A premium shirting fabric made with two-ply threads (two individual threads are twisted together) which make it durable, soft, and lustrous.
Inside Pockets
Paul Fredrick sportcoats and suit jackets are constructed with four inside pockets: two breast pockets, one on each side, with a security flap on wearer's right side pocket, one pen and one cell phone pocket on left inside.
Intarsia
A design created by knitting colored yarns on both sides of a fabric. Intarsia designs are usually isolated forms, not repeat patterns.
Interlock
Knitted with closely interlocking stitches, this fabric maintains an exceptionally smooth hand, good drape and provides a little extra stretch for increased comfort.
Italian Cotton
Italian Cotton, fabric woven exclusively in Italy, is a remarkably soft and durable cotton. The meticulous pattern detail and saturated color make for an exceptional shirt. A specialized finishing is always added to make the fabric feel soft and the color shine.
Jacquard
A fabric with a design woven into it. The word jacquard comes from the nineteenth-century French inventor of the special loom this elaborate fabric is woven on, Joseph Marie Jacquard. The jacquard attachment allows for any pattern, no matter how large, small or intricate to be woven in a fabric.
Jersey
Jersey was first made on the Island on Jersey off the English coast and used for fisherman's clothing. Today it is commonly found in t-shirts and is very resilient with fine draping qualities and crease-resistance. Jersey wears and washes well.
Keyhole Buttonhole
Found on all Paul Fredrick jackets and sportcoats. Characterized by a round hole at the end of the slit to accommodate all types of buttons without distorting the fabric.
Knit
A process of making a fabric or garment with hand- or machine-made interlocking looped stitches, first used for making stockings. Although knitting was not a common use for making clothing until the 19th Century, they are now a comfortable, easy wardrobe staple.
Lambswool
A soft, smooth, resilient wool yarn from the first shearing of a sheep younger than eight months old. Fine grade wool.
Lapel
The turned-back front section of a jacket or coat that connects to the collar and forms a "V" where the jacket or coat closes. See also Notch Lapel and Peak Lapel
Leather
A material created through the tanning of the skin or hide of an animal. There are many different finishes which can be used including sueding, glazing, embossing, etc.
Linen
A natrual fiber produced from the stem of the flax plant. Stronger, stiffer, and more lustrous than cotton, it yields cool absorbent fabrics that wrinkle easily. An easy and ideal summertime fabric with its breathable qualities.
Lining
Jackets can be fully lined or half lined. A fully lined jacket is lined on the entire inside so no seams show. A half lined jacket is lined on the top half and sleeve, but the bottom half is not lined and the seams are taped for a clean finish. Half lined is usually done on jackets with lightweight fabric, so the lining doesn't add weight to the jacket.
Loafer
Loafers are low, step-in shoes with no shoelaces or buckles, often made of leather or suede. The loafer is a classic style with a broad flat heel. Variations would include the penny loafer and tassel loafer.
Long Staple Cotton
Cotton whose fibers are over 1 1/8 inches long. Longer staples cottons create increased durability and hand (how pleasing the fabric feels) of the garment because they can be spun into finer threads than shorter lengths of cotton.
Luxury 140's Cotton Broadcloth
A very luxurious yarn, the higher thread count and resulting closeness of weave gives it a superior hand and remarkable luster.
Luxury 200's Cotton Broadcloth
Woven from some of the finest cottons in the world, our Luxury 200's Two-Ply Cotton offers an extremely silky touch and incredibly fine patterns.
Lycra®
A trademark DuPont fiber that has incredible flexibility and recovery. Lycra® is a brand-name spandex that is usually woven with other fibers to provide ease of movement in fabrics.
Madder
Refers to a natural dye used since ancient times, although it has since been translated into synthetic dye. Most commonly used on silk, it creates beautiful deep, muted, soft colorations usually paired with paisley and small geometric patterns in neckties.
Madras
A bold plaid plain-weave fabric. This lightweight fabric was originally hand woven in Madras, India from cotton yarns dyed with native vegetable colorings.
Medallion
A piece of carved or engraved metal that is usually circular in shape. Can also represent a medallion print on fabric.
Melange
Refers to two different color threads twisted together, creating a heather effect.
Mercerized Cotton
A special kind of cotton yarn that is more lustrous than conventional cotton. It is also stronger, takes dye easily, makes the yarn more resistant to mildew and reduces lint. Mercerized yarn stays shiny through washing and gives a nice, somewhat fancier look to finished items. Mercerization is named for John Mercer, who developed the process and received a patent for his work in 1851. Mercer found that adding caustic soda or sulfuric acid to cotton made the fiber swell and straighten. However, in 1890 Horace Lowe developed a process by which caustic soda was added to the yarn under high tension, which added the luster that mercerized cotton is famous for today.
Merino Wool
A better-quality wool yarn made from the fleece of merino sheep. Merino sheep are said to have the finest and softest wool of any sheep.
Microfiber
Continuous filament fibers that can be spun to be thinner than a silk thread and therefore allows manmade fibers to have an array of aesthetic and performance qualities. Microfiber is used to make non-woven, woven and knitted fabrics. The combinations of synthetic fibers can add specific characteristics, such as softness, durability, absorption, wicking abilities and water repellency.
Mock Neck
A knit pullover finished at the neckline with a short, fitted knit band that does not fold over. An abbreviated version of the turtleneck.
Modal
Fiber made by spinning reconstituted cellulose from beech trees. Textiles made from Modal have soft, smooth surfaces are water-absorbent and resistant to shrinkage and fading.
Monk Strap
A casual or dress shoe with a single or double strap closure, usually with an adjustable buckle.
Mother-of-Pearl
The lining of an oyster or type of mullusk which is iridescent and lustrous. This high quality, luxurious material is often used in cufflinks.
MP3 Pocket
Found on certain sportcoats, the convenient interior MP3 pocket has a safety closure and ear bud.
Nano Technology
Provides liquid and stain repellency, shape retention and resistance to creasing.
Nested Suit
A suit in which jacket and trousers are sold together. The nested suit also sometimes includes a vest. Compare to Suit Separates in which jacket and trousers are sold separately.
Non-Iron Cotton
Enjoy the comfort of cotton without the wrinkles for a clean, crisp presentation. Garments which are 'non-iron' have seams which are taped to prevent puckering. The completed garment is [then] treated with an ammonia process, pressed and baked to make the entire garment wrinkle free. Paul Fredrick dress shirts are machine washable and should not be dry cleaned.

Notch Lapel
A collar that has a triangular notch where the lapel meets the collar. This is traditional on single-breasted suits, and is used on most Paul Fredrick suit jackets, blazers, and sportcoats.
Nylon
A synthetic fiber that is silky, strong and higly resilient. Nylon was originally introduced in the 1940s by DuPont for women's stockings. However, it is widely used today and is often combined with other fibers to increase durability. Nylon has definitely paved the way for easy-care garments.
Oltolina
Oltolina produces fabrics for high quality shirts for international markets. It has a modern machinery and 150 skilled workers subdivided between the production in Asso and the finishing in Busto Arsizio. The classical and fancy fabrics of cotton are woven using the most precious twisted yarns in the world.
Ombre Plaid
A plaid in which the colors transition by way of fading.
Ottoman
Long staple plain weave with a horizontal cord or ribbed effect.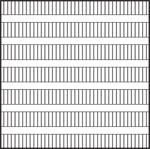 Oxford
A weave in which the warp (horizontal) has two fine yarns paired together and one heavier softly-spun weft (vertical) yarn, which gives the fabric a subtle basket-weave look and a lustrous finish. Well known for men's shirts, it is also used for summer jackets and sportswear. Originated by a Scottish mill, oxford was one of their four shirting fabrics named after famous universities, along with Harvard, Yale and Cambridge.
Paisley
A swirled tear-drop shape pattern commonly found in neckties.
Panama
A Panama hat is a traditional brimmed hat that is made from the plaited leaves of the panama-hat palm (Carludovica palmata). Despite the name, genuine Panama hats are made in Ecuador, not Panama.
Park Avenue Spread Collar

The middle ground between a Traditional straight and Windsor spread collar, the Park Avenue is a bit more spread than the straight and less than the Windsor.
Parquet
A diagonal twill dobby woven in a pattern of squares resembling a parquet floor.
Also See Dobby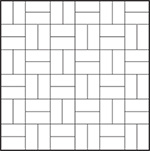 Patch Pocket

A flat, outside pocket stitched onto a garment with a straight hem opening. Paul Fredrick offers four types of patch pockets: Triangle Round, Straight Round, Mitered Pocket, and Button-Throught Pocket.

Patchwork
A fabric design consisting of squares, or patches, of varying pattern or color.
Peak Lapel
A lapel in which a v-shaped seam is formed where the collar meets it. This is the most formal and is found on Paul Fradrick double-breasted jackets and some single-breasted styles.
Performance Collection
A Paul Fredrick Collection. Travel-friendly, easy care. Polished good looks withstand the rigor of travel with style. Wrinkle-free and stain resistant garments are a staple of this collection.
Pick Stitching
A large stitch that simulates a hand stitch. The pick stitch is done around the lapel and pockets of a jacket.
Pima Cotton
A high-quality, very strong, exrta-long staple cotton named after the Pima Native Americans, who first cultivated the plant in Arizona in the early 1900s. Pima cotton is considered one of the most superior blends of cotton.
Pinpoint Oxford
A finer yarn and tighter weave than oxford. A weave in which the warp (horizontal) has two fine yarns paired together and one heavier softly-spun weft (vertical) yarn, which gives the fabric a subtle basket-weave look and a lustrous finish.
Pinstripe
A pattern of very thin, crisp lines, usually in gray or white, evenly woven into fabric. The pinstripe suit has become associated with conservative business attire, but is easily updated for a more refreshing look.
Piping
A narrow fold of fabric in a seam to provide decorative embellishment. Usually seen in sport coats, suit jackets, and blazers in a contrasting color.
Pique
A durable woven or knit fabric that is characterized by an allover textured pattern of raised parallel cords or fine ribbing. Generally cotton yarn, the most popular patterns are birdseye, diamond, waffle and honeycomb.
Placket
A strip of fabric running along a closure, used to provide support for fasteners such as buttons, snaps, or a zipper. Almost always used to facilitate putting on or taking off of a garment, but are sometimes used as a design element as well. Paul Fredrick uses three different types of plackets: Top Center, Double Press Turnback and Covered.
Plaid
A fabric with a pattern of bars and stripes that cross each other at right angles. Plaid fabrics may be printed or woven and come in a variety of colors.
Plain Weave
A basic weave, utilizing a simple alternate interlacing of length and crosswise yarns over and under, alternately. Any type of yarn and fiber can be manufactured into a plain weave fabric.
Pullover
A knit top that can be pulled on over the head.
Pleats
A fold of fabric made by doubling material over on itself. Pleating provides more volume to a garment and is often used as a decoartive feature.Different types of pleats can be seen on Paul Fredrick trousers and shirts.


Trousers:
Double reverse pleats and single reverse pleats on trousers open to the pockets. Box pleats are formed by two folded edges facing away from each other.

Shirts:
Back pleats are on woven shirts to allow ease of movement. Paul Fredrick offers two types of back pleats: box pleat and side pleat. Box pleats are in the center back of the shirt and are used on all buttondown collar dress shirts, except slim fit. Side pleats are located on each side of the shirt back. They are used to allow greater ease of movement in the shoulders compared to a box pleat. All casual shirts, slim fit dress shirts and all other dress shirts, except the buttondown collar styles have side pleats.
Pockets
Paul Fredrick offers 5 types of pockets: Triangle Round, Straight Round, Mitered, Button-Thru and Besom.
Triangle Round Pockets: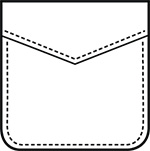 Triangle round pockets have a triangle hem at the top of the pocket with rounded edges at the bottom. Only used on solid dress shirts.
Straight Round Pockets: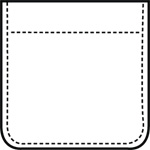 Straight round pockets have a straight hem at the top of the pocket with rounded edges at the bottom. Used on patterned shirts.
Mitered Pockets: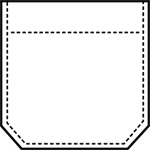 Mitered pockets have a straight hem at the top with mitered edges at the bottom. All shirts with a mitered cuff have a mitered pocket.
Button-thru Pockets: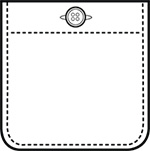 Button-thru pockets are rounded pockets with a functional button. Only used for casual shirts.
Besom Pockets:
Button-thru pockets are rounded pockets with a functional button. Only used for casual shirts.
Polyester
A man-made fiber resistant to shrinkage and wrinkling. Polyester is often combined with other fibers such as wool and cotton as a way to provide low-maintenance dressing options.
Polynosic
Known for luxurious softness and superior drape, polynosic is a type of natural microfiber. Considered finer quality than regular rayon yarns, it resists stretching to maintain shape over time.
Poplin
A plain-weave, tightly woven, durable fabric with a crosswise rib, creating a slight ridge effect.
Print
A fabric or garment with a dyed pattern that has been pressed onto it. Prints date back thousands of years, but technology has allowed prints to be developed more simply and in a variety of effects. A printed garment always helps to bring an outfit to life.
Quarter Top Pockets
Front trouser pockets starting a quater of the way in from the side seam.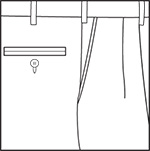 Readers
Paul Fredrick's eyewear collection is distinctive in color and style. These high quality reading glasses come in a variety of shapes and colors with strengths of +1.5, +2.0 and +2.5. Each frame can be converted into prescription glasses with help from a qualified optician.
Reda®
Since 1865, Reda® wool has been world renowned for quality, luxury and refinement. The finest fleece, decades of artisan experience, technological innovation and Italian mastery converge to form a truly superior fabric.
Rhodium
Rhodium is a silvery-white element that does not tarnish. It is a hard metal and is a member of the platinum family. It is one of the most valuable precious metals. Often used in cufflinks.
Rib Knit
A knitted fabric characterized by lengthwise ribs formed by wales alternating on the face and back of the cloth. Rib knits have greater elasticity in the width than in the length and tend to fit to the body. They are durable and do not stretch out of shape after wear.
Rise
Distance from the crotch seam to the top of the waistband in pants.
Sandwashed Silk
A process by which the silk is treated to give it an even softer surface, almost suede-like in feel. This fabric is incredibly soft, has a matte surface and drapes beautifully.
Satin Weave
A basic weave, characterized by long floats of yarn on the face of the fabric. The yarns are interlaced in such a manner that there is no definite, visible pattern of interlacing and, in this manner, a smooth and somewhat shiny surface effect is achieved. The shiny surface effect is further increased through the use of high luster filament fibers in yarns which also have a low amount of twist. A true satin weave fabric always has the warp yarns floating over filling yarns.
Scalloped Facing
A border that contains continuous curves. All Paul Fredrick jackets and sportcoats have scalloped interior facings, also known as French facing. Many jackets also have the added detail of contrast piping along the finished edge of the lining.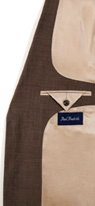 Seersucker
A mid to lightweight fabric that has a characteristic permanent puckered striped effect created through releasing the tension on the loom during weaving.
Shadow Stripe
An easy stripe pattern composed of elegant, tonal hues. Shadow stripes create an interesting pattern that easily pairs for dressy or casual occasions.
Sharkskin
Smooth wool in a twill weave that has a characteristic alternating black-and-white pattern for a grayed effect. The surface is said to resemble a skin of a shark. Commonly found in suitings.
Shawl Collar
A one-piece collar which is turned down to form a continuous line around the back of the neck to the front.
Shirt Jacket
Jacket designed in the style of a shirt with a button-front closure, shirt collar and often a two-button adjustable cuff.
Signature Collection
A Paul Fredrick Collection. Exclusive. Distinctive yet timeless. Polished elegance with a more singular attitude.
Silk
A fiber produced by the silkworm Bombyx mori, also known as the mulberry silkworm, with which the worm weaves its cocoon. Silk is soft, has a brilliant sheen, and is very strong and absorbent. A luxurious fabric, silk is lush to the touch.
Silk Shantung
Medium weight, plain weave fabric made of raw silk. Known for its irregular surface created by slubbed yarns in the warp or filling direction. The slubs that appear randomly are part of the character and rustic beauty of this precious cloth. See Slub
Soft Collar
Edge-stitched for a more European attitude, the soft collar is best suited to casual shirts. It is a shorter length than our typical straight collar with a softer interlining giving it a more casual presentation.
Silver Plated
A thin coating of silver over an alloy metal.
Single Breasted
A jacket having one row of buttons on a narrow overlap. Paul Fredrick single-breasted jackets and sportcoats are offered in two- or three-button models. These buttons are generally uncovered, or can be covered on a fly front model.
Single Needle Tailoring
Refers to a lockstitch which has two rows of single needle stitching locking the seam together as opposed to chain stitch.
Slim Fit
Also referred to as a slim cut, the body of the shirt is 4" narrower in the chest tapering to 6" narrower at the waist. A perfect fit for those who do not need the full body cut of a regular fit dress shirt.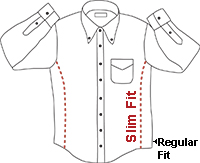 Slub
Yarns produced by uneven twisting of fibers. At even, or uneven intervals the yarn is reduced, producing a soft, bulky area inbetween.
Spectator
These stylish, retro shoes are known for their two-tone color, similar to saddle shoes. Most spectators are wingtips, however they can also have cap toe or even loafer stying. They are predominantly seen in black and white but other color combinations update this classic style.
Sportcoat
Of the same cut as a suit jacket, a sportcoat is more casual and designed to be worn on its own, not as part of a suit.
Split Toe
Usually a lace-up shoe that has a seam coming down the center toe box that "splits" the shoe (or pieces of leather) in two.
Spun Silk
Fibers shorter than the traditional filament silk are spun together creating a full bodied fabric with exceptional luster and texture. Spun silk's superior shape retention and a natural resistance to pilling will keep you looking great all day.
Stain Release Technology
Easy wash finish prevents the yellowing on the collar and cuffs from sweat. The stain release technology allows stains to be easily washed out when laundering the shirt.
Stain Resistant
Treated so that moisture rolls off instantly, locked out.
Sterling Silver
An alloy of silver containing 92.5% silver and 7.5% other metals, usually copper. This gives the soft silver extra strength.
Stretch Armhole
A piece of stretch fabric that is sewn in the back of the jacket lining around the armhole. The stretch fabric allows for better ease of movement.
Suede
Suede is a type of finish which creates a napped surface on various types of materials such as wool, cotton, leather, and various synthetic materials. The short, close nap provides a smooth, soft hand.
Super Wools
The story of this thread is the numbering system used to describe the new breed of super-lightweight, high-twist wools. Pioneered by Italian mills, these fabrics are made using high-tech machines that spin wool lighter and finer than it's ever been spun before. The various grades of cloth are referred to as Super 100s, Super 120s, Super 150s and so on, up to Super 200s. Make Super 100s and Super 120s the mainstay of your wardrobe. They are durable, resilient, and today's fabrics are superb. Treat the Super 150s and Super 180s as caviar, wonderful, but not to be worn every day, for these really are connoisseurs' suits.
Supima® Cotton
Supima Cotton is a luxury, trademarked fabric that refers to Cotton grown exclusively in the United States. Supima Cotton, the cashmere of cottons, is stronger, softer and more brilliant white than any other in the world.
Swarovski® Crystal
The luxury brand name for the range of precision-cut lead crystal glass and related products produced by Swarovski® AG of Wattens, Austria.
Tencel / Lyocell
Tencel® is the trademarked brand name for Lyocell, a cellulose fabric that is achieved through an organic solvent spinning process. Lyocell has good moisture absorption and static resistance. It is also very durable and provides as subtle luster.
Tessitura Monti
Based in the north of Italy, Tessitura Monti is known for high quality 100% Egyptian cotton shirtings. In business for over 98 years, Monti is proud to be contiuing in their belief of providing superb quality of design and production.
Textured Solid
A solid, one color fabric with a textured weave, creating a pattern.
Top Center Placket
Also called a "Traditional Front," a top center placket uses a separate piece of fabric and a fused lining to give it additional durabiliy. See also Placket
Toyo Straw
A type of shiny smooth straw that is made of shellacked rice paper. This material is commonly used for straw hats and fedoras.
Toquilla
A type of natural palm mainly used in the production of Panama hats.
Traditional Straight Collar
A universal collar; the most versatile, easy to wear style. Click here for a visual comparison of Dress Shirt collars.
Tred Stripe
Stripe resembling the tred marks of a tire.
Trilby
A Trilby hat is a soft felt men's hat with a narrow, flexible brim and a deeply indented crown. Traditionally it was made from rabbit hair felt, but now it is sometimes made from other materials, such as tweed, or wool. They are similar to fedoras, but with a narrower brim. See "Fedora"
Tropical Weight Wool
A smooth wool fabric made from two-ply yarns in an open plain weave. Lightweight and airy, this fabric is great for summer wear.
Twill
Fabrics created by interlacing the warp and weft so that the fabric has a diagonal slant or twill line. Twill fabrics have a front and a back side, unlike plain weave, where the two sides are the same. The face side of a twill fabric is the side with the most pronounced wale and is usually more durable, more attractive, and used as the fashion side of the fabric.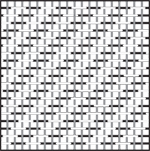 Unsolid Solid
Solid, one color fabric in which a pattern is created by varying the weave.
Varsity Spread Collar
A shorter version of the Windsor Spread, updated with slightly curved lines. Click here for a visual comparison of Dress Shirt collars.
Variegated Stripe
A stripe with streaks, marks or distinguished by a variety of different colors.
Velvet
Fabric that has a pile, which is usually cut and brushed for a plush surface effect, offering a rich texture.
Vent
A vent is a slit in the bottom rear (tail) of the jacket. There are three vent options in a jacket: center vent, side vents or no vent.
Vermeil
A durable and tarnish-resistant overlay of gold on sterling silver.
Virgin Wool
Wool spun for the first time. Not recycled. See Wool
Warp
Lengthwise threads of a woven fabric.
Water Resistant
A fabric finish that allows the garment to resist the penetration of water. This finish is commonly found in Paul Fredrick performance garments.
Weft or Fill
Thread that is woven across the warp at a right angle.
Windowpane
A pattern of thin lines forming large squares on a background of a different color. Windowpane was a very popular pattern at the height of Savile Row style and is very common today for men's suits, trousers, and sportcoats.
Windsor Spread Collar
A conservative spread collar appropriate for any occassion. Click here for a visual comparison of Dress Shirt collars.
Wing Tip
A wing tip shoe has a decorative toe cap that is usually perforated and covers the toe of the shoe and extends backward along the sides of the shoe from a point at the center.
Wool
A fiber obtained from the fleece of a sheep. It is a resilient and wrinkle resistant fabric. Wool can hold up to 30% of its weight in moisture without feeling wet. A great fabric for keeping warm in the cold winter months.
Worsted Wool
A carded, combed, tightly twisted yarn that produces crisp, smooth woolens.
Wrinkle Resistant
Treated to resist wrinkles. Although not non-iron, these treated fabrics will keep you looking polished all day long.
Yarn
A strand of textile fibers joined together, used for weaving or knitting into fabric.
Yoke
The shaped section at the shoulders that connects all the other parts of the shirt. One-piece yokes allow for greater ease of movement where split yokes provide a more tailored look. Paul Fredrick one-piece yokes are 4", starting at the neckband and are found on all casual shirts and European collection dress shirts. Paul fredrick split yokes are 2-1/2", starting at the neckband and have a seam in the center of the yoke. All dress shirts, except the European collection have a split yoke. Paul Fredrick also offers a mitered yoke on select dress shirts. Similar to a split yoke, a the side panels of a mitered yoke are cut on the bias (diagonal) creating a mitered effect along the center back seam on of the yoke.
Zegna Baruffa Yarns
A wide range of yarns that appear clean and smooth, flowing and extremely light. Zegna Baruffa is an Italian firm with a long tradition of high quality and excellence.