How to Clean Your Dress Shirt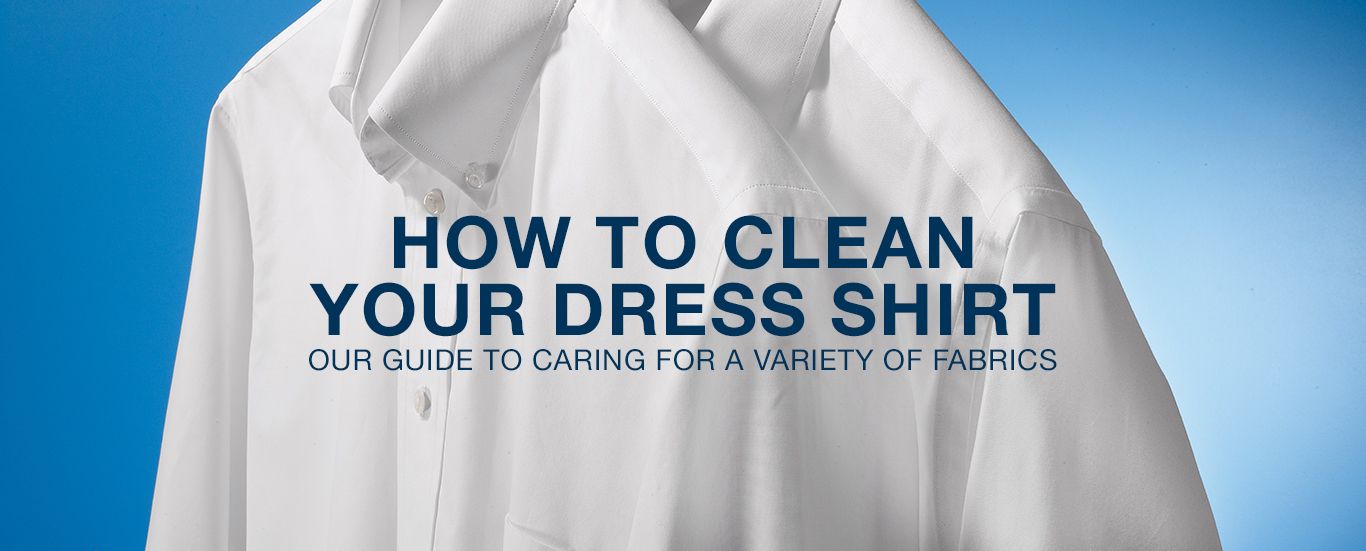 There is no better feeling - at least for us, and we know a lot of other guys agree, too - than putting on a crisp, new shirt. It can make you walk a little taller, feel a little smarter. But life happens, and stuff gets dirty. With general wear or coffee and/or meal mishaps, some of the initial lusters fade. Here's where the rubber hits the road. How you wash to keep that crisp, clean look is critical to the lifetime value of your dress shirt.
Proper care of your quality pure cotton dress shirt (and, by the way, all our dress shirts are 100% cotton) will make them look better for longer. The longer your shirt stays sharp, the smarter you'll feel about the investment you made. And the good news is that bringing that shirt back to its original out-of-the-box allure is very doable without a lot of work on your part. You just need to know how to wash it correctly. Knowing what the type of cotton you're dealing with and how it needs to be treated is the key.
How to Care for Your Dress Shirts By Fabric Type
Here are some general guidelines for making your shirts look better longer:
Non-Iron Cotton Dress Shirts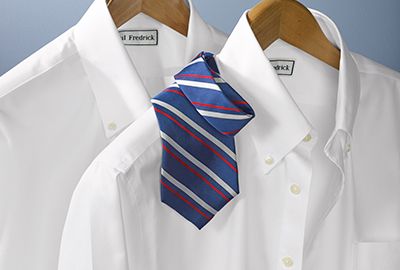 Let's start with the relatively new and cool convenience of comfortable non-iron cotton. Deficient maintenance, these shirts require minimal care and no ironing. Plus, they shed wrinkles throughout the day, which means you look as good in the evening as when you put the shirt on that morning.
A perfect fit for the no-nonsense guy who wants to get up and go, these shirts are also the ideal traveling companion – silent and no work.
Caring for well-made, pure cotton non-iron dress shirts is straightforward. In fact, there are really only 2 rules:
NEVER DRY CLEAN or commercially launder your non-iron cotton shirts. The extreme temperatures and harsh compounds used to break down the fundamental agent used to prevent wrinkling. This quickly weakens the fabric, as well as takes a toll on your wallet. Dry cleaning eradicates the main advantage of a non-iron shirt – it doesn't wrinkle or need to be ironed.
Machine wash your non-iron dress shirts on a warm or cold water setting and tumble dry at a LOW heat temperature. The low heat will activate the time-saving non-iron properties, leaving you with a shirt that looks just pressed wrinkle-free. That's right guys, lose the iron, you don't need it. Just need a quick trip to freshen up? Put your non-iron shirt in a warm dryer for 10 minutes, and it's crisp and ready-to-go.

** Side Note: Many mistakenly believe non-iron cotton shirts are stiff and not as soft as regular cotton shirts. Let us dispel that myth. Advances in non-iron technology over of the last few years have made that adverse distinction ancient history. It is difficult (even impossible) to feel or see any noticeable difference between today's regular and non-iron cotton shirt.

Shop our Non-Iron Shirts >
Pinpoint Oxford Dress Shirts & Broadcloth Dress Shirts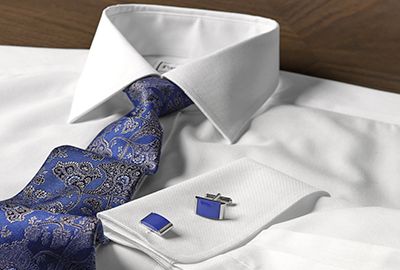 We totally get the guy who likes the all-natural appeal of classic pure cotton dress shirts. Unlike our competitors, you'll find Paul Fredrick offers plenty of selection and a wide range of sizes.
The care directions for pinpoint oxford and broadcloth shirts are very much like the non-iron cotton, with two bright and clean distinctions.
To achieve the highest return on investment, machine wash dress shirts on a cold water delicate setting. Afterward, tumble dry the shirt on low heat using a delicate cycle. Sounding familiar? Probably.
Something you may not know is if you remove the shirt from the dryer when it is slightly damp, a warm iron will remove the wrinkles with a lot less work than if you let it go full cycle and ironed later. Unlike non-iron cotton dress shirts, cotton pinpoint oxford and broadcloth WILL need to be ironed.
Also unlike non-iron cotton, commercial launderers are fair game for regular cotton shirts. Make sure the shirts are laundered, NOT dry cleaned, which any creditable cleaner will know. We also recommend going light on the starch. Your shirt need not stand upright on its own.
Shop our Pinpoint Oxford Dress Shirts
Shop our Broadcloth Dress Shirts
The Non-Iron Impeccable Shirt™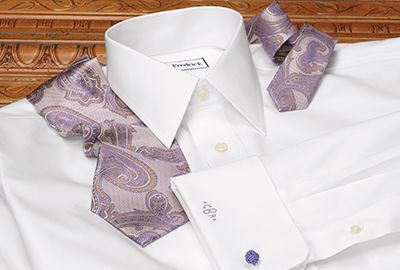 Designed for the guy who likes being on the cutting edge of technology and wants to maintain his carefully earned spot on the "best dressed" list.
THE IMPECCABLE SHIRT™, new and exclusively from Paul Fredrick, is right on point. Flawlessly tailored, The Impeccable Shirt™ is made of pure non-iron cotton. We especially finish each shirt for a luxuriously soft difference you can feel. In addition to that, it's got performance perks aplenty:
COMFORT LUXE™ Collar: flexes up to ½"
NO-PUCKER: perfectly smooth seams
EZ-RELEASE: all-over stain resistance
EZ-CLEAN: soil release inside collar & cuff treatment
EZ-COOL: moisture wicking, fast-drying comfort
EZ-COVER: built-in Ultraviolet Protection Factor of 50+ protects you from harmful UV rays
Cleaning is the same as any non-iron cotton shirt. NEVER DRY CLEAN or commercially launder. Machine wash on a warm or cold setting and tumble dry at a low, but warm temperature. Remember, the warm heat of the dryer activates the non-iron treatment. Out of the dryer, it's ready to wear.
Shop our new Non-Iron Impeccable Shirt™
FINAL TIPS YOU MAY OR MAY NOT KNOW:
Hand washing is by far the gentlest way to care for your dress shirts and is the best method for prolonged wear. Use a high-quality detergent and wash them in the sink or bathtub in cold water. It's a lot more work, but some guys totally dig it so you can decide if it's worth it.
If you do machine wash your dress shirts, remove the collar stays. Leaving them in can warp the collar's shape.
Please, please, PLEASE separate your white shirts from other colored wash. It dramatically reduces the chance of your favorite '80's rocker tie-dye t-shirt bleeding on your pristine white shirt. Spotty white shirts are not a business or fashion statement. Ever.