Benefits of using Wool Fabric in Clothing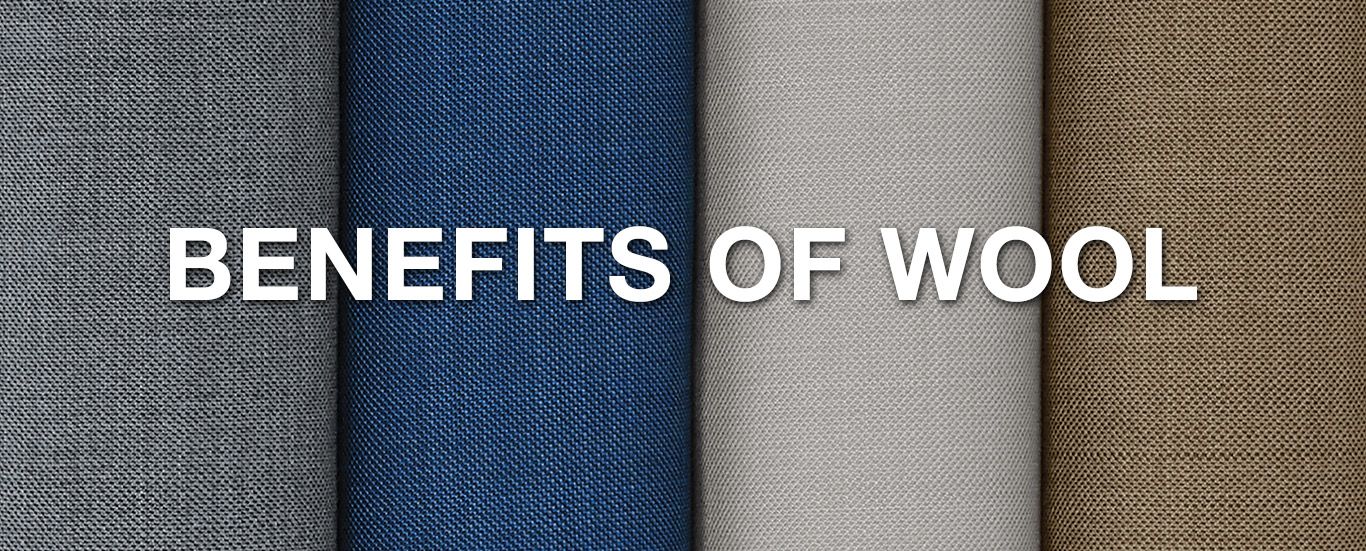 What are the Benefits of using Wool Fabric in Clothing?
When there are so many kinds of fabrics out there, why spring for wool apparel? The answer is simple – because wool is different. Not only is it extremely versatile, but also it can be used in plenty of your menswear essentials, from hats to sweaters to suit and jackets. This baby is totally practical, too – both highly wearable and super durable. Want to learn more about why wool is a good, luxury fabric of choice? Keep reading.
6 Facts that Prove Wool is a Superior Fabric
It's Naturally Better
Did you know that wool is natural, grown year-round by more than 71-million sheep in Australia? A super simple blend of water, air, sunshine, and grass is all it takes! Because of this, wool fibers are biodegradable – they naturally decompose in a matter of years, releasing valuable nutrients back into the earth.
And not to mention, wool is totally renewable, as sheep produce a new fleece each and every year.
It's Soft and Comfortable
Somewhere along the line, wool got a bad reputation of being scratchy and rough (probably due to poor quality sheep's wool and processing of the fibers). True, Merino and other high-quality wools are more malleable than traditional, coarser varieties. But when manufactured with care, wool should make for some crazy comfortable clothing. At least, we make sure it does here! If your wool clothing isn't soft and incredibly smooth, you should be feeling buyer's remorse setting in about… now.
Wool can also absorb large quantities of moisture, wicking it away from your skin for a comfortably cool feel. And on top of all that? Wool fabric is a proactive fiber, meaning it'll react to changes in body temperature. So yes, you can rock that summer sweater vest, as wool will keep you warm when it's freezing out and cool when it's boiling.
It Fits Just Right
Wool naturally has a stretch to it. Meaning you won't find it at all stuffy during 3 p.m. meetings or after a full day of wear. And still, wool fabric easily snaps back into shape, despite continuous wear and cleaning (definitely a good thing if you bought apparel that's fitted).
Not to mention, that fit! Because of its smooth fibers and easy stretch, wool won't cling uncomfortably to your body like other fabrics. In fact, the beautiful drape and fit are just a natural benefit for you to enjoy. Put this to the test with one of our Essential Suits – and get ready to see how great you'll look.
It's Super Easy to Take Care Of
Let's face it, guys – sometimes it's just easier to pick something that's, well, easier. And wool is definitely one of those things. Not only are most varieties machine washable, but many can be tumble dried, too! Thus, providing a simple solution to the common question of 'How do I wash wool?' You already know how it's done.
Another fun fact – did you know that wool is both stain and odor resistant? It has a unique outer layer that helps to repel stains and keep them from being absorbed, making it perfect for the less-than-perfect guys among us. And as we mentioned, wool fiber absorbs more moisture than your average fabric. Trust, wool gives you the advantage when sweating it out before a Very Important Date or other fancy occasion.
It's Reassuringly Safe
So, maybe you don't pick your wardrobe staples based on their fire repelling abilities. In case you do, rest easy – wool is totally safe to wear. Not only is it fire resistant, but also some varieties such as Merino wool offer UV resistance, too. That's right; wool is definitely a solid choice for picnics, park days, and outdoor events.
Because of its chemical structure, this baby is the most trusted fabric in public areas such as hotels, aircraft, hospitals, and more. It's harder to ignite than other textiles and won't melt and stick to the skin like many other synthetics.
It's Exceptionally Stylish
You can't deny it – wool is totally sleek. Ask any designer or seamstress and they'll tell you how well wool handles and drapes. What this means for you, is wool is guaranteed to fit well and lay on the body in all the right spots.
Wool is lively and flexible, offered in a wide variety of textures, weaves, and weights. This allows the fibers to be woven or knitted for designs across all four seasons. It can also be permanently set using temperature and moisture, allowing designers the freedom to create in a wide range of shapes and styles.
Additionally, fashion designers can employ dozens of innovative treatments on wool that allows the creation of unique textures and finishes on garments. In fact, our pure wool treatment of our Performance Blazer makes them wrinkle- and stain-resistant, even beyond wool's natural ability. To put it simply, they're perfect for the man on the go.
There's no way to describe the advantages of wool clothing in a word – there are too many to choose from! But if wool clothing can help the environment, improve your health, and up your fashion game? We ask you to reassess the lack of wool in your closet.