What to Wear to an Office Party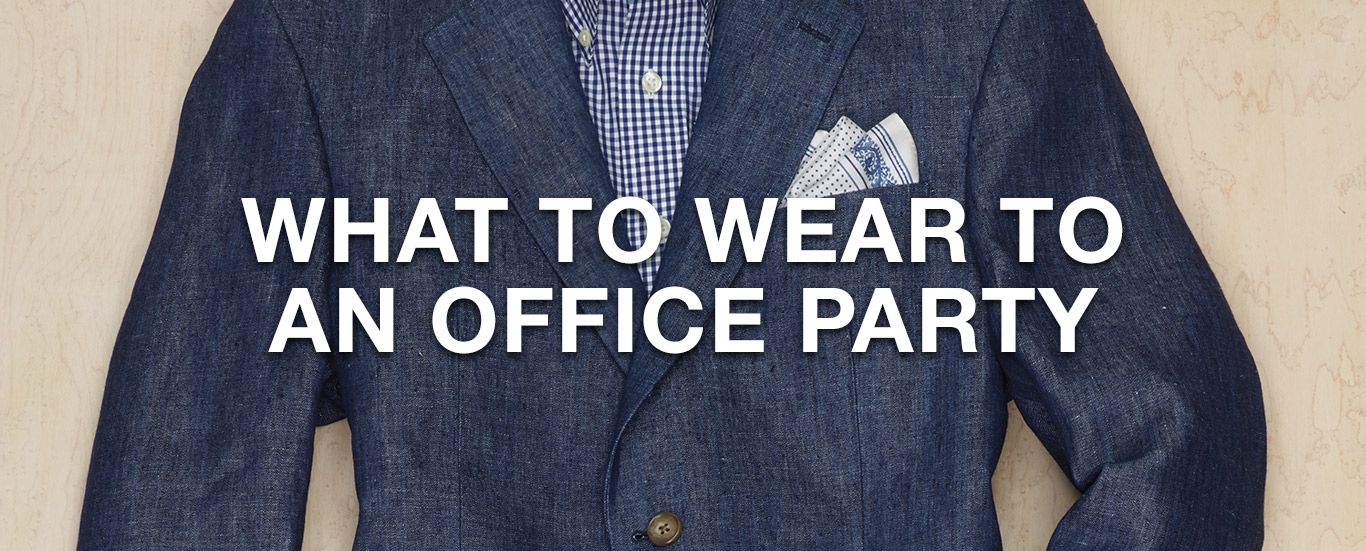 So, you're getting ready to head to a company party – know what you're going to wear? If you're unsure what to pick or are completely clueless to the dress code etiquette, never fear. We're here to help you find the perfect look to make a fantastic impression, no matter what the event.
Attitude & Appearance are Important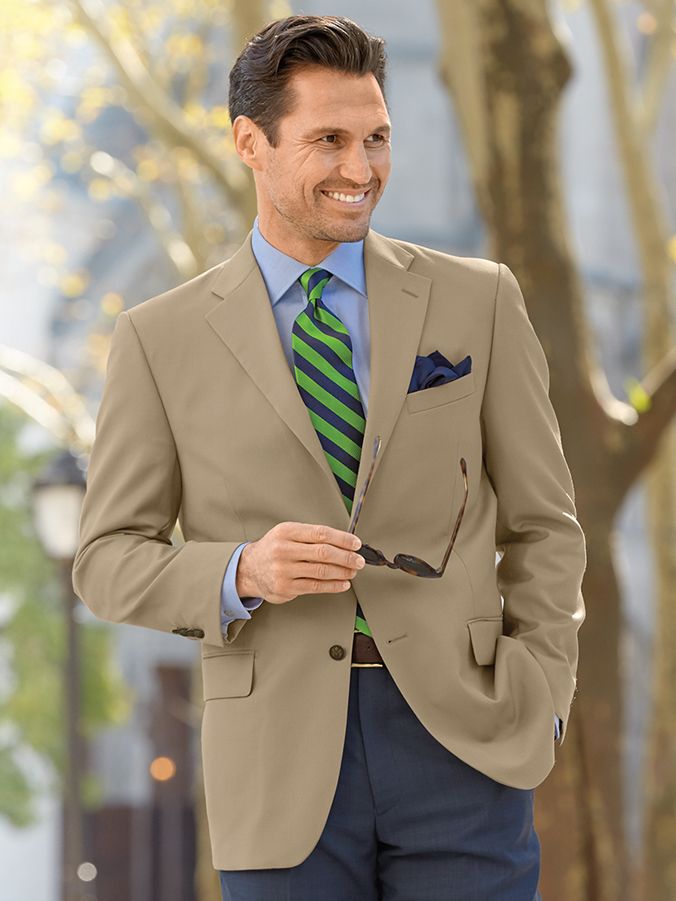 When it comes to dressing appropriately for a business occasion – whether it's a holiday or cocktail party, or simply a fun office get-together – there are a few key things to remember. 1) First impressions absolutely matter, and 2) it's not "just" a party.
You may think you'll know everyone at this office party, but odds are you won't. You may be introduced to clients, friends of co-workers, or significant others who will be brought into the fold. Even if they don't work for the company, those peoples' opinions of you still matter in a company setting! Always make sure that you're dressed to make the perfect first impression, no matter what the occasion, since you never know whom you'll meet.
Additionally, you can't dress like this party is one you would arrive at with friends – this is a business occasion, and you need to treat it as such. No dressing down or acting inappropriately (c'mon, you don't want to be that guy). Keep your appearance neat and put together and save the shenanigans for your weekends with the guys. Make sure you keep the parties that you attended in college separate from your new corporate world of parties. The t-shirt and flip-flops you used to rock for competitive games of beer pong won't exactly cut it here – your behavior and your appearance should be neat and appropriate. What happens with the guys may stay with the guys, but work parties are interviews for your future. Trust us – you'll thank us later.
What to Wear – an Item by Item Breakdown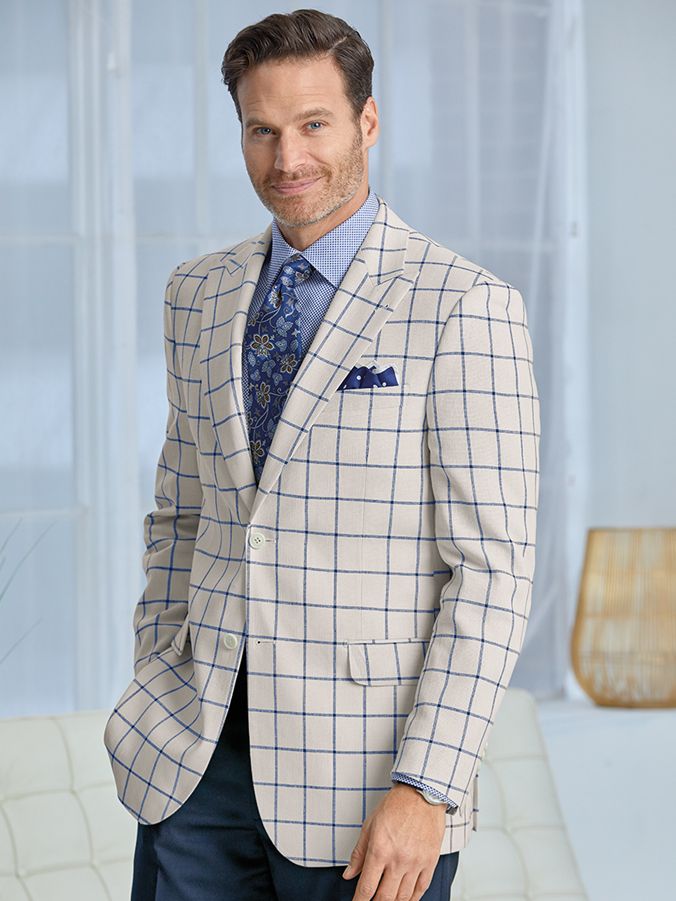 At any company party, it's safe to assume the dress code is business casual unless explicitly told otherwise.
Wondering what business casual means? It's a hard look to define, especially if you're unfamiliar with smart and formal dress codes or haven't been to this type of business function before. No worries – there are a few simple steps you can follow for the perfect outfit formula.
THE SHIRT
Almost as important as the jacket you're wearing, always, always, ALWAYS make sure that you have an ironed, well-fitted shirt. Following this first rule for men will help you look clean and put together, giving the impression that you care about your appearance.
THE JACKET
Business casual dress typically features a casual blazer, sport coat or jacket over a button-up shirt.
Avoid formal suit jackets for this type of event. You want to look comfortable but still well-dressed, not like you're about to conduct a formal meeting.
THE TIE
Ties? No need. That's right – you can totally ditch the formal tie and jacket for this type of dress code. If you're worried about being underdressed, feel free to add a colorful pocket square to your look. Rules of the pocket square: pick a color (patterned or solid) that ties in (never a complete match) to one of the colors from your shirt.
THE PANTS
When in doubt, go without – jeans, that is. Some attendees may consider wearing jeans to a business casual event a fashion faux pas. If this is the case, go ahead and rock those chinos or casual linen pants.
Depending on the dress code, you may be able to sport jeans in a dark wash or black, but no skinny jeans, please! If you're not sure what to wear, opt for simple, well-fitted slacks or khakis for a look that's put together and gives off a great impression.
THE SHOES
Always opt for a leather shoe with matching socks for this type of event. This is the easiest way to coordinate your look and keep it on code.
If you want to take a walk on the wild side of business casual, feel free to mix up your look with different styles of leather shoes such as brogues or oxfords.
THE ACCESSORIES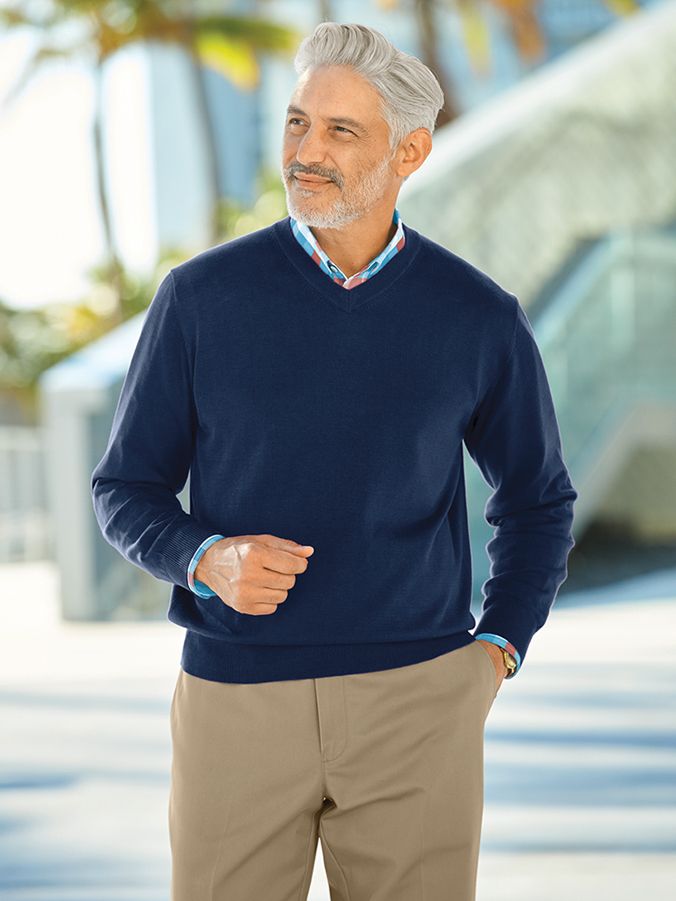 We've already established that you should totally avoid the tie, but what about other accessories? At a professional office party, you'll want to keep these simple – stick to a high-quality watch without a lot of bling on it to keep your look sophisticated. Other accessory options may not seem important but can have a very negative impression when neglected. You don't want to stand out for all the wrong reasons!
Belts- Primarily your belt color should match your shoe color. Belts are a great way to add a little style to your outfit, so you can either choose one that coordinates with your outfit or stands out. Whatever the case, make sure that you get every belt loop! Trust us, these little details make a huge difference.
Socks- Don't neglect, they will be seen. Gone are the days of matching your socks to your pants, especially for parties. If you are still old school, standard black, grey etc. colors are completely acceptable and depending on how formal the party is can give you a very sophisticated look. Pick a sock color a shade darker or lighter than your pants. (Leave the white socks for the gym bag). Patterns and colors are great and can really show off your style. However, be careful not to look like a clown. Try to have a color from your outfit somewhere in the sock pattern. The more crazy the sock, the more classic the outfit colors. Again, be comfortable, know your crowd and have confidence when wearing.
OTHER NECESSITIES
Let's get down to it – in addition to how you're dressed, you must make sure that you are well groomed. Yep, that may even mean dragging yourself out to get a haircut. Make sure that your hair and beard, if you have one, is neat and trimmed so that you'll look put together from head to toe.
Even if you're the best-dressed person in the room, your look can be easily ruined by not paying attention to your personal hygiene and appearance. Trust us on this. (On that note, take it easy on the cologne!)
But never forget – just because a party is "business casual", doesn't mean that it's casual. It's totally an opportunity to dress comfortably while presenting yourself in a professional way. One way to think about it is that you should aim to dress down business rather than dress up casual. After all, it's better to be overdressed instead of underdressed, right?
Other Tips for Dressing for the Company Party
We have just a few more things for you to think about when planning an outfit for an office party. These little details will help make all the difference in how you look and feel:
Be comfortable. While relaxing and having fun, which could involve dancing, the last thing you need is noticeable sweat stains. If this is even a slight possibility, please consider our line of non-iron shirts. These shirts not only make it easier for you to start with a crisp, non-wrinkled shirt, but they contain a finish that prevents yellowing on the collar and cuffs from sweat.
Make sure that your clothes are well fitted and tailored to your body type. Ill-fitting clothing can totally ruin your look, whether too big or too small. If you are unsure of how to find the perfect size dress shirt, be sure to check out our comprehensive guide.
If you can't find anything to wear or don't have time to, don't be afraid to buy something new! This is the easiest way to make sure that your clothes are clean and fit you to a tee. Additionally, this is a great way to find classic pieces to pair with the more "fun" items in your wardrobe that will help you show off your personality at parties. And the best part? You can totally wear them at work, too.
Outerwear matters. Whether you're walking to the car, sharing a cab ride home, or simply heading out for a few post-party drinks with the guys, you always want to make sure that your outerwear is just as presentable as what you wore to the party. You don't want to just throw on an old parka and go – find a jacket, blazer or coat that pairs perfectly with your style and looks polished and well fitted.
The Ultimate Goal in dressing for that party? Maintain your classy, conservative look, re-affirming your place and capabilities within the company – while also being able to show off your personality and have fun, of course.