What to Wear to a Wedding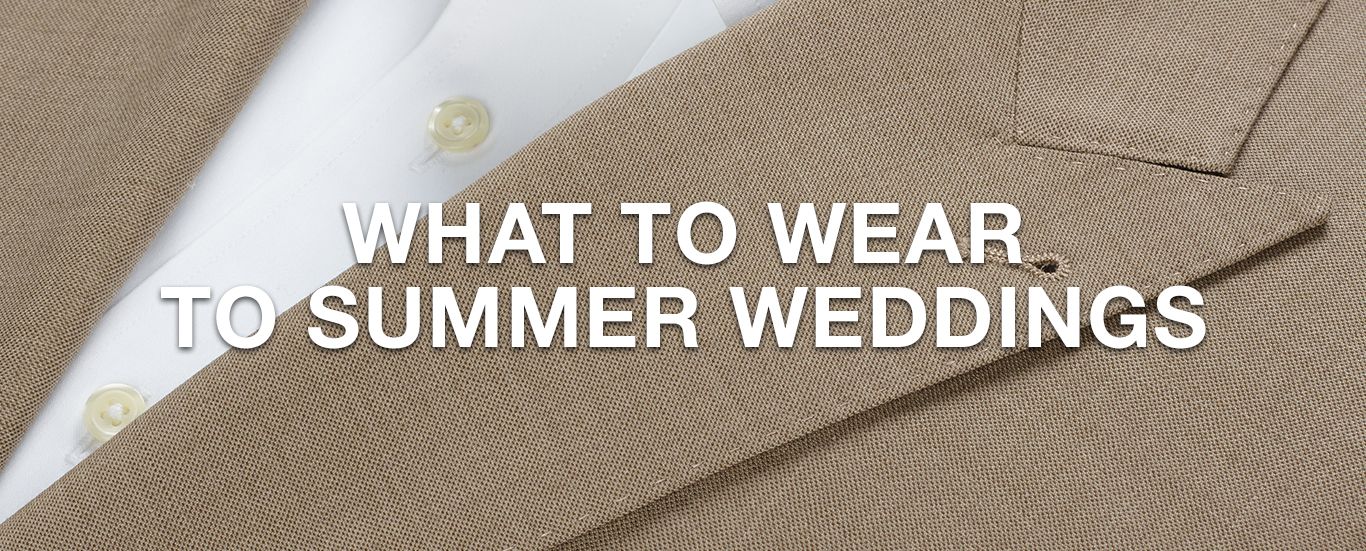 With each new season comes a new set of wedding vows and invitations. The biggest hurdle for us guys, though, is what to wear. Dressing for a wedding can sometimes often be difficult to decipher; formal or casual, day or night, indoors or out?
Before we break this down into levels of formality, one sidebar. It's summer. Which means the heat is on, and you're probably going to sweat. With the dancing and mingling, indoors and out, staying neat and cool is the name of the game.
So, with that in mind, here is Paul Fredrick's formal guide to dressing for a wedding. Along with 5 quick tips on how to hit it out of the park for every summer wedding.
What to Wear to a Formal Wedding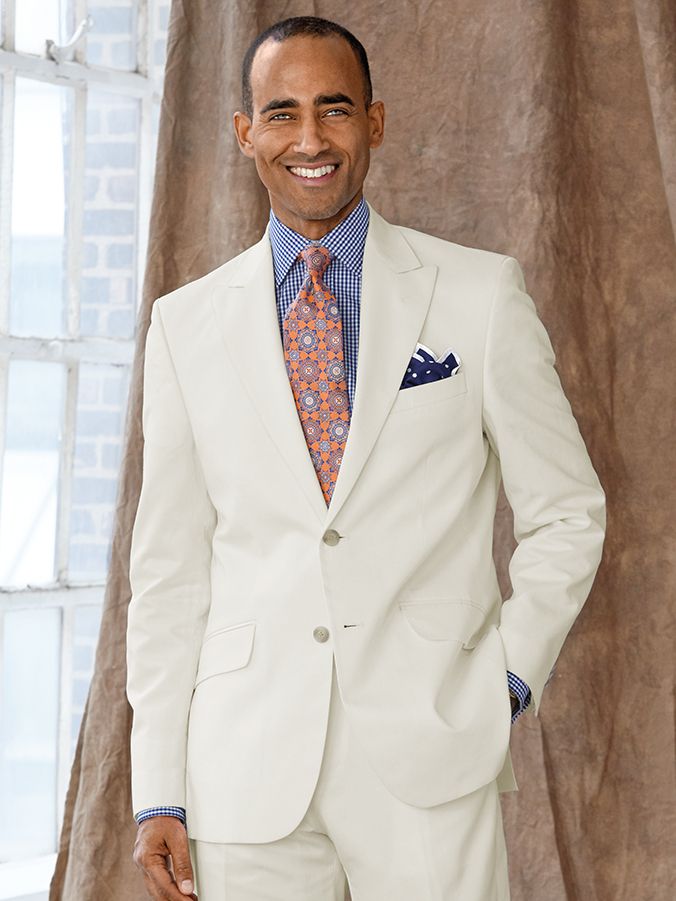 This no longer means tails, unless specifically mentioned in the invitation. But you can put on the ritz with a Paul Fredrick white three-piece suit. Because White absorbs the least amount of light, it will keep you cooler, longer. The other advantage of a triple vested suit play is it will layer down. So, full suit for the ceremony, then jacket-less with vest and tie and you're ready to party down at the reception.
Paul Fredrick pure cotton non-iron dress shirt is the perfect complement to your summer formal attire. The same breathable comfort of traditional cotton, without the wrinkles. Perspiration actually activates the wrinkle-free treatment in the shirt, one of the few times sweats works.
Pair it with a white or black bow tie for a classic look in the evening or add a dash of color and match a bold, solid colored tie to liven up the affair ensemble. Socks and pocket square in complementary colors work together brilliantly. Complete your outfit with a classic oxford or double monk strap shoe.
What to Wear to a Semi-Formal Wedding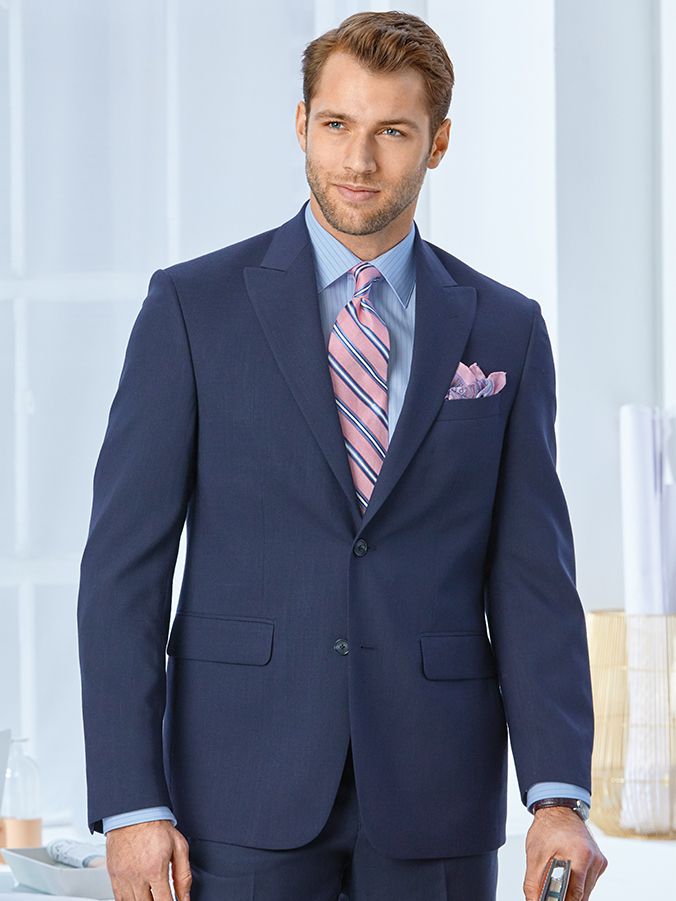 Foolproof look for any semi-formal event is the suit. A dark suit in navy or charcoal is always a perfect fit for evening affairs. Try our alfresco a.k.a. all-season wool suit separates which will last you long after the wedding.
Suits that combine natural breathability and lightweight comfort are great choices for summer. With the naturally refined texture of linen and elegant silk luster, are all "warm weather friendly" choices.
Paul Fredrick's grey windowpane sport coat is a perfect choice, day or night. A sharkskin suit is also an all-occasion favorite. Traditional seersucker suits will serve you well during warm summer months. It's a fitting choice for the easy, breathable comfort of pure cotton.
Neutral shades are easy to match and you can use accessories to bring in a touch of colorful interest. Stick with classic geometric, paisley, and floral patterns.
What to Wear to a Smart Casual Wedding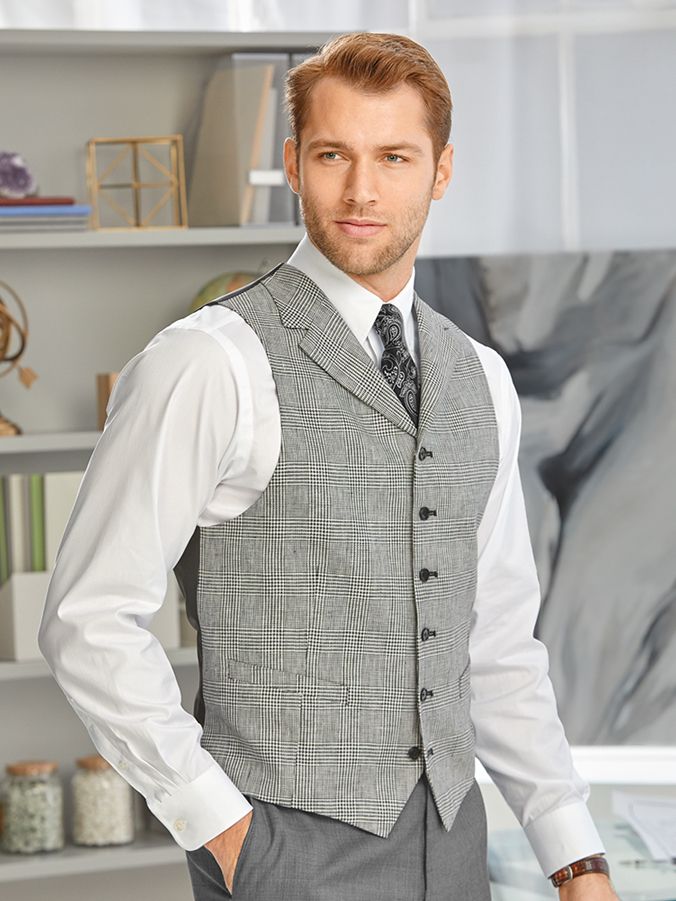 Serious style can be had with a solid suit and a striped or plaid shirt in the same color for a hip monochromatic look, just lose the tie. But say you don't want to invest in a suit? Fret not, the smart casual wedding is a great opportunity to don a less formal sport coat or vest.
One jacket that will always be in style and last through many toasts at weddings, is the Paul Fredrick performance blazer. It resists wrinkles and stains.
If it's a day wedding, a tee shirt length linen sport shirt has that casual, comfortable vibe you're trying to capture. At an evening wedding, a solid neutral toned shirt (long sleeves, please) with a dapper patterned vest looks polished and put-together but still relaxed. Finish your look off with comfortable shoes. Loafers are a perfect choice. Go sock-less, it's the cool Italian thing to do.
What to Wear to a Casual Wedding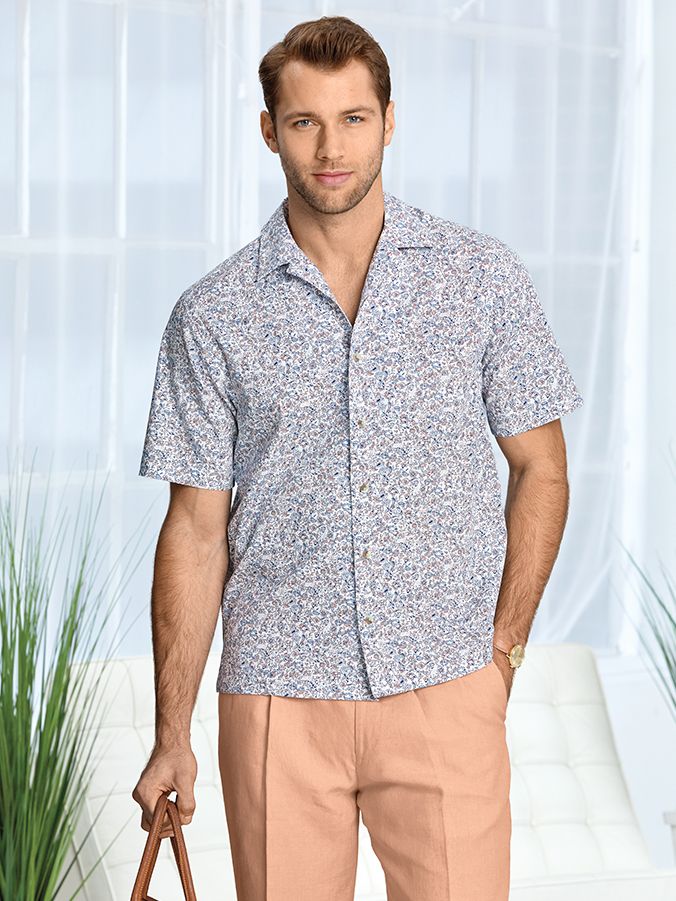 Location, location, location! Summer weddings often mean beach weddings. Sand and formal shoes do not mix. A leather sport shoe or a leather sandal with a rubber sole works well for these events. A sandal should cover the majority of your foot. Be prepared for a possible barefoot reception, and make your feet and toes presentable.
Casual shoes mean casual pants that can potentially be rolled up for a stroll along the shoreline. Consider linen pants, non-iron chinos or even shorts. No, not denim, fraying, or cut-offs. But tailored shorts that hit slightly above the knee.
Non-iron cotton or linen is perfect for this type of event and both pair well with a smooth silk camp shirt. If you'd like to stick to more traditional pieces, pair cotton shorts with a cotton pinpoint oxford dress shirt, you might even want to add an optional tie. Finish your outfit with a hat to keep you cool in every sense of the word and go enjoy the celebrations.
5 Easy Ways To Win Best Dressed
Remember it is better to overdress than underdress, but it is a party, so have fun with your look. Here are five quick details you can add to your outfit to make it a winner.
Fit Matters
First and foremost, independent of wedding formality, you want your clothes to fit you well. A tight or an oversized look will draw unwanted attention your way. Diverting attention from the featured attraction, the bride, and groom. Make sure you're you have it to your tailor approximately six weeks before the big day so there is an opportunity for any further alterations.
Square Up
Every suit jacket and sport coat looks better with a pocket square. It is the perfect pop of color to make an outfit look festive. They are also on standby should you need to pat moisture from your brow or dab a lady's misty eyes.
Heavy Metal
Link-up and add a fun fashionable flair with whimsical cufflinks. A nautical knot cufflink is ideal for a summer weddings, giving a wink and nod to the occasion of tying the knot. Consider a tie bar too, preferably of the same metal tone as your cufflinks.
A watch can add a touch of sparkle to your attire. It will be useful, and it will help avoid the temptation to use your cell phone for anything other than taking fabulous photos.
Top It Off
In the summer sun, a hat is functional and cool. It keeps the sun out of your eyes and will top off your look. The classic straw fedora works nicely and has a southern gentleman flair. For a trendier look, try the stingy brim straw fedora in a complementary color or with a patterned band.
The classic trilby is a formal favorite, worn by British aristocrats in the 1800's to the horse races. For smart casual events, the rake's choice is a pork pie hat, the famed topper of the silent film star, Buster Keaton.
Fancy Feet
Head to toe your look should be cohesive yet show a sense of personal style. Socks allow your personality to shine through in a very subtle way. But they are off the mark with shorts. Show your party-guy self with socks that say something about you. Socks are très fashionable at the moment and are an excellent conversation starter.
Now that you know what to wear the next step is navigating the wedding registry. Unfortunately, not our area of expertise. We leave the gift to you. Cheers!