How to Care for Knits and Sweaters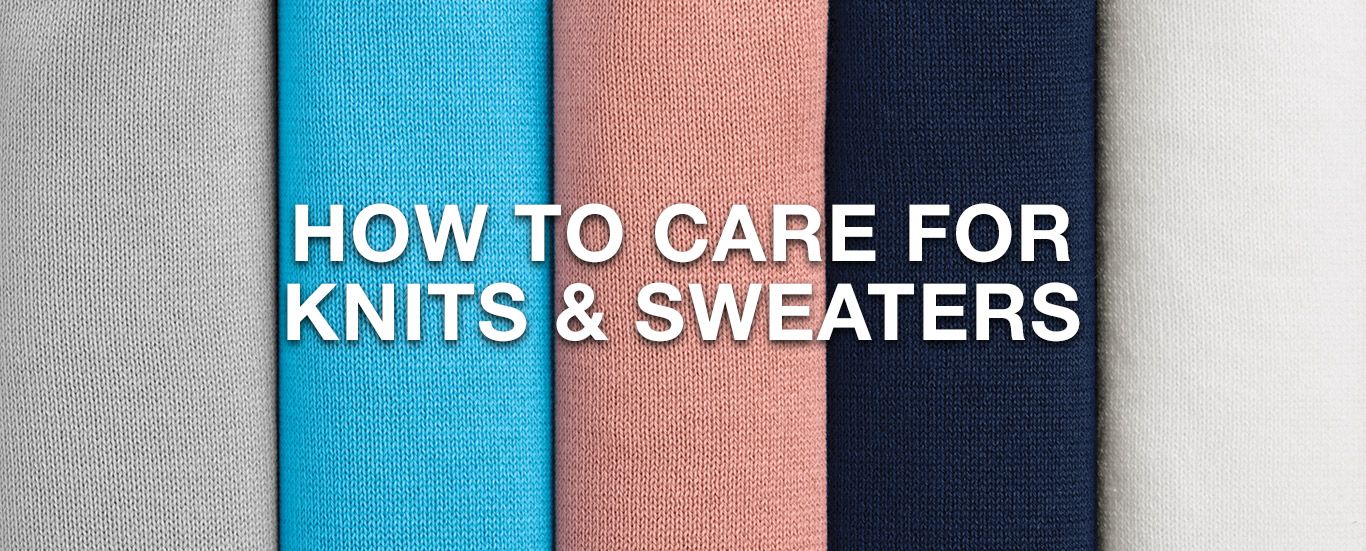 Once thought of as a luxury item, today knits and sweaters are a staple in every man's closet. Better yet, knits can make a fashion statement any time of the year. Ranging from thick, comfortable wools for the winter to lightweight silks for the spring and summer, these pieces are a definite necessity for professionals and men on the go.
But, just like any other luxury piece, knits and sweaters need a little extra TLC – both to hold up for the long-haul, and to withstand mishaps like snags, spilled coffee, and Taco Tuesdays.
Never fear – keeping your knits clean and pristine is pretty easy to do, and – phew – doesn't require much work on your part. Let's get into it.
Why Does Knitwear Need Extra Care?
Why should we worry so much about knits, anyway? Well, knitwear by nature uses fabrics that tend to be more delicate and malleable. Incorrectly washing, drying or storing knitted apparel can cause the item to lose its shape, shrink or bubble. Meaning you won't look at all up to snuff at that upcoming networking event. The same issues can arise when washing or drying too frequently. To extend both lifespan and wearability, make sure you follow the instructions on your clothing care label to a T!
Of course, how you care for your knits depends a lot on the type of fabric they're created with. Whether it's cashmere or silk, cotton or wool, each type needs a little extra love and attention. Read on to discover the ins and outs of caring for each of these luxe fabrics.
Cashmere and Wool
Let's start with the soft and cozy cashmere and wool knitwear. These fabrics are among the most luxurious on the market, offering a soft feel and lightweight to weighted comfort. At Paul Fredrick, we offer a selection of knits designed with high-quality cashmeres, wools, and blends for the perfect wear for any season and any style.
About the Fabric
Cashmere
Ask anyone – they'll tell you that they love cashmere. Cashmere is crafted using the delicate undercoat of the Kashmir goat for a lavishly soft feel. This fabric is typically very sensitive and not durable, requiring the utmost of care to extend its lifespan.
Wool
Wool fabric is created from the wool of sheep and lambs, depending on the variety, of course. Wool is both breathable and durable, meaning that it does not need to be cleaned each and every time it is worn. AKA, it's perfect for the man doesn't the have the time or energy for a load of laundry after every wear.
Luxe merino wool has a natural warmth and softness with a touch of odor reduction. Lambswool – the highest quality wool available crafted from young sheep – has a naturally smooth feel.
Wool and Cashmere Blends
Can't choose between wool and cashmere? Our lush wool blends combine premium wool and cashmere for a durable strength and luxurious softness. They're customer favorites for good reason – they're great at retaining their shape and are lightweight and comfortable. The blend is a solid choice for all seasons.
How to Care for Cashmeres and Wools
When taking care of these luxe fabrics, we always recommend finding a professional cleaner first. A great cleaning service will know how to properly handle these delicate materials and will help extend the life of your sweater. But don't you dare walk out of the store with your sweater on a hanger! Make sure to request that your sweaters are returned folded and bagged, as hanging will cause them to stretch and lose their shape.
When cleaning your sweaters at home, we suggest hand washing them rather than throwing them in the washer or dryer. We know, we know – but it'll take all of 5 minutes more. Follow the steps below to make sure that your clothing is washed properly and not damaged in the process:
Prepare a clean basin or sink
Add lukewarm water and mild, non-alkaline soap or baby shampoo
Wash garments gently
Rinse off the soap using cold water with a few tablespoons of distilled white vinegar to neutralize alkali traces and dissolve any leftover soap residue
Optional – Add a few drops of hair conditioner to the rinse for a smooth and silky, soft feel
Roll your garment in a clean towel to extract water – please NEVER wring or twist, as it will warp the shape
Lay out the garment in a clean area to dry flat
Storage of Cashmere and Wool Sweaters
Did you know that how you store a sweater would affect its lifespan? Because of their delicate nature, cashmere and wool sweaters should be stored folded in a cool, dry place rather than on hangers. This can cause the sweater to stretch and lose its shape, making it look unkempt. And let's face it, guys – that makes it totally unwearable in our books.
Silk and Cotton
Let's move on to the sturdier, although just as luxe, silks, and cotton. These fabrics have a more durable nature than wools and cashmere, although they can be just as extravagant. At Paul Frederick, we offer an exclusive variety of cotton, silks, and blends that are a perfect match for any occasion when paired with dress pants or dark jeans.
About the Fabric
Silks
When it comes to shirts or sweaters, you can never go wrong with silk. Silks are among the most sumptuous fabrics on the market, with a smooth soft finish that looks just as lush as it feels. Typically handcrafted, silk pieces are durable and retain their shape when properly cared for long-term.
Cottons
And finally – the classic cotton. Cotton sweaters are not only super comfortable to wear but also are suited for any season of the year. These pieces are easy to coordinate and can be dressed up or down to suit any occasion as an added layer. Unique to Paul Frederick, the Comfort-Luxe Polo is another cotton-based knit that we exclusively offer. This fabric packs performance perks that are activated by heat, making them perfect for outdoor wear and sports.
Silk Cotton Blends
Having a hard time deciding between silk and cotton? Why not wear both with one of our luxury blends? Adding a dash of silk to a cotton piece, such as in our Cotton & Silk Crew T-Shirts, is the perfect way to up your formal or semi-formal dress code. Our blends are highly wearable and retain their shape well; but, you should care for them as if they are made of only silk.
How to Care for Silks and Cottons
Like cashmere and wool, silk requires special care. Special as in, you should either send your clothing to a professional cleaner or hand-wash at home, rather than throw your pieces in the washing machined. Always check the tag to see if your silk piece was pre-shrunk before hand washing; if it wasn't, water could cause the garment to shrink and warp.
When caring for silks at home, we suggest following these hand-washing steps:
Prepare a clean basin or sink
Add lukewarm water and mild, non-alkaline soap or baby shampoo
Wash gently – DO NOT soak your piece more than a few minutes
Rinse off the soap with cold water with a few tablespoons of distilled white vinegar to neutralize alkali traces and dissolve any leftover soap residue
Roll the garment in a clean towel to extract water – please NEVER wring or twist, as it will warp the shape
Hang or lay flat to dry
Unlike cashmere and wool, some silks can also be machine-washed. If you're going that route, use cold water and select the most delicate cycle as well as the shortest spin cycle. Place your garment in a mesh bag before loading in the wash and use a mild detergent such as Woolite™. This will help your sweater retain its shape and texture without any annoying pilling or stretching.
Among the most durable of fabrics, most cotton can easily be thrown in the machine at home. Of course, again we're going to pitch using a professional as the best choice. But machine-washing is more common when cotton is involved. Be sure to follow these steps when machine-washing your cotton sweaters or shirts at home:
Turn your sweater inside out to reduce pilling and damage to the outside
Place your garment in a large, mesh bag and load into the wash
Add a mild detergent such as Woolite™ and wash according to the care instructions on your clothing label
Roll the garment in a clean towel to extract water – please NEVER wring or twist, as it will warp the shape
Lay flat to dry or tumble dry low in a machine dryer, removing when it is almost dry to lay it flat
Storage of Silk and Cotton Sweaters
Remember – how you store your sweaters can affect their lifespan. Because they can easily retain their shape, silks can be stored on hangers or carefully folded. Cotton, on the other hand, should be stored folded in a dry, cool place to ensure that they retain their shape.
Treat your knits and sweaters as you would other valuables, like your car or wristwatches – with respect and dignity. When properly washed and cared for, they'll be around to serve you for a long time!