Differences Between 2 and 3-Button Suits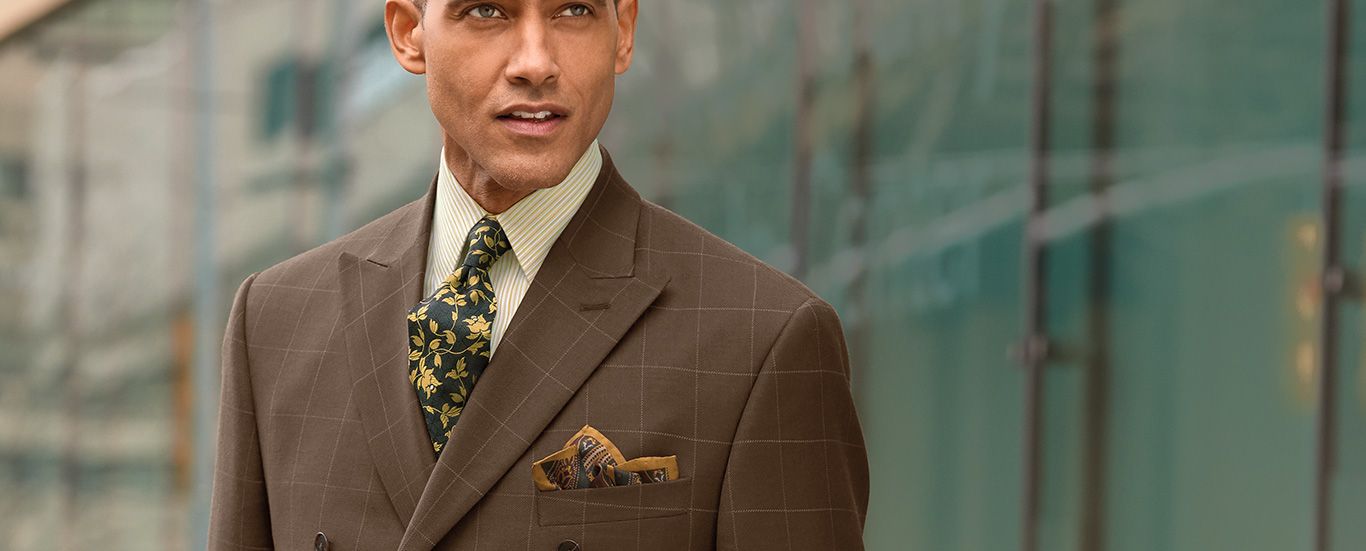 Differences Between 2 and 3-Button Suits
Dressing and coordinating a suit and tie ensemble takes more than time – it takes know-how. If the devil is in the details, the first place to look is the buttons. Specifically, we're talking about the number of buttons on the said ensemble.
It might seem like a minor feature, but there is a big difference, style-wise, when it comes to two and three-button suits. Keep reading to learn just what those are, and what effect your preferred button-style has on your overall appearance.
Two-button Suits
The 2-button jacket has been the international standard for decades, making it the traditional default button stance. It's best when the top button (the only one you should fasten) hits just above your navel. Button placement that looks too low appears dated (as in the early '90's).
Visual Effect: The two buttons fall lower on the jacket, creating a deep V shape from to the longer lapels. It's also especially great for showing off your shirt and tie, as it allows better visibility of each.
Who Should Wear It: The two-button suit is a great choice for just about any body type. This jacket is flattering thanks to the slimming effect it has on the body. It also makes the wearer appear taller.
Slimmer and taller? What man can't appreciate that? It seems not many, as the two-button suit jacket is the most popular choice today in menswear.
When to Wear it: A two-button jacket is a great option for all occasions and works especially well at events that are less formal, more business casual. It's also a fantastic choice for everyday professional wear.
Three-button Suits
The 3-button jacket is also classic and can be well tailored, as in European style, or more casual and boxier, as in the traditional American cut. You have two options:
Fasten just the middle
Attach both the middle and top buttons, but the bottom button always stays open.
Visual Effect:
You might be surprised by how much of a difference one extra button can make on a suit. The three-button jacket has shorter lapels and a shallower V (especially compared to the two-button version).
Who Should Wear It:
Unfortunately, that subtle difference doesn't make for as flattering a silhouette as the two-button jacket. Taller and thinner men should note that the three-button jacket can help to fill you out visually. It's also a winning choice for an athletic build.
For the man with a shorter or larger torso, the three-button suit is not the best option ‒ we suggest you stick with the two-button jacket instead, which is much more forgiving.
When to Wear it: Since this jacket has you more buttoned up, it's a great choice for more formal occasions. However, it's not quite as popular a choice as the two-button jacket.
Trend-wise, the three-button suit was more popular in the 1990s, has since fallen out of favor. But if you are aware of your shape and ensure to choose one that fits your body well, there's no reason to forego the three-button suit, which can still look incredibly smart and sophisticated
Fashion Do's and Don't's for Your Suit Jacket Buttons
Whichever style you choose, there are a couple of universal fashion rules when it comes to the buttons on your suit.
Firstly, never button the last (bottom) button. This advice may feel a little odd. After all, if there's a button there, shouldn't it be used? The short answer ‒ no, never! It's a steadfast rule, whether you wear a two or three-button suit.
In fact, suit jackets are cut for the wearer to leave the bottom button undone. The jacket falls best across the body when the last one is half-done. Not convinced? Stand in front of a mirror and test it out for yourself. We guarantee that with all three buttons closed, you'll notice the jacket looks more form fitting. In fact, it can make the jacket look too small for you.
Secondly, always undo your buttons before sitting. Again, this rule applies whether you opt for a two or three-button jacket. Sitting down in a buttoned suit jacket will instantly look awkward, as the jacket will be forced to stretch across your middle and back.
Over time, this will wear on the overall construction of your jacket. Just remember to button back up when you stand (except that last button, of course!)
One thing to note about a three-button jacket ‒ you don't necessarily have to button the top two buttons. The quick rule for this is sometimes, always, never.
What does it mean? The middle button should always be buttoned, but the top button is your choice. You can opt to button it up or simply leave it undone. The bottom, as with any suit jacket, should never be buttoned!
Why Do Suits Have Two or Three Buttons?
If the rule is never to fasten the bottom button, you may be wondering, "Why have a button there at all?"
The story goes that the no-buttoned bottom button became a rule thanks to King Edward VII, ruler of England in the 1900s, and his expanding middle. Once his stomach became too large to button his suit jacket comfortably, he simply forewent the bottom button.
Remember, England pretty much ruled the world at that time, so it's no surprise this rule quickly spread around the globe! The good news for you is that it is much more comfortable to leave the last button undone, so perhaps we ought to thank Old Ed.
Choose the Suits That Suit You
For the professional man, it's best to have both suits in your closet. No matter what occasion arises, you'll be ready to tackle it with a smart-looking suit, appropriate from a wedding to the boardroom.
If you're building your suit wardrobe, your safest bet will be to start with the classic, tried-and-true two-button jacket. You can be confident it will flatter your shape, giving you the confidence to get through whatever the day throws at you.